These incredible blown glass rayguns are part of a series called (appropriately enough) Raygunz, created by Canadian master glassblower Jeff Burnette.
Burnette owns a massive glassmaking warehouse in Vancouver's East Side, which he's dubbed Joe Blow Glassworks. You learn more about Burnette's work, which includes goblets and glass sculptures, on the Joe Blow Glassworks website. I was lucky enough to see a few of Burnette's rayguns on display in Vancouver over the weekend, and when you see them in person, they practically glow with energy and strange etheric vibrations.
Writes Burnette of the Raygunz series:
These are blown and manipulated hot glass objects. A transparent colour is picked up on the pipe, then clear glass is gathered on top. The piece is then blown out and shaped to the desired form. Coloured bits are added. Once the bits are in place, the handle and trigger are applied to the piece, the Raygun is then knocked off the blowpipe into the annealer to cool over a fifteen-hour cycle.

Once cooled, the piece is ground and sent out for silvering or completed. The Raygun is a bubble with a transparent colour on the inside. The silvering is a solution of silver nitrate, ammonia, and distilled water that is mixed and poured into the open end of the gun. The silver sticks to the inside of the piece just like a mirror. The final step is chemically bonding a machined stainless steel end to the piece.
G/O Media may get a commission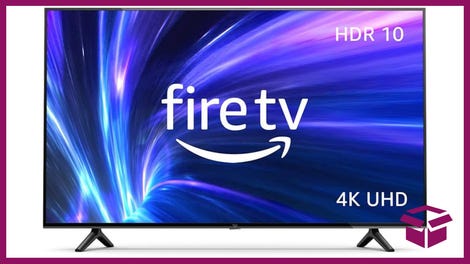 42% Off
Amazon Fire TV 50" 4K Smart TV