The US Open is upon us! No, not that one, the golf one. And whether you're a golf fan in your own right or joining pop by his armchair on Father's Day, here's your ultimate US Open survival kit for a parfect weekend.
GelaSkins Golfer iPhone Skin: What separates the fan from the superfan? The willingness to tattoo a phone with a gaudy skin that says YES, THIS. THIS IS WHAT I AM ABOUT. In this case, you are about golf. Embrace it. $15.
G/O Media may get a commission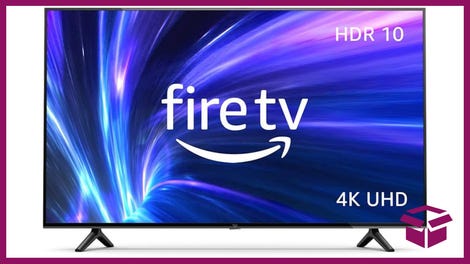 42% Off
Amazon Fire TV 50" 4K Smart TV
Official US Open App: Look, no one ever accused a golf tournament as being a whizz-bang affair. It's gonna take all day each day, and some of each night. For those times you've actually got to leave the house but don't want to feel too far away from the lugubrious action, the US Open app gives you constantly updated leader boards, video highlights, and live ESPN Radio coverage. Free.
Twilight Tracer Light-Up Golf Ball: Once the pros have moved onto the 19th hole, it'll be time to ride that wave of inspiration to your nearest public course (or country club, you swank little minx). It'll be late, sure, but there's no need to lose any more balls than usual; the Twilight Tracer lights up on impact, sending your shot streaking across the sky. $9.
Ping iPhone Cradle: Better golfing through iPhone? Well, sort of. The Ping iPhone Cradle clips onto your trusted putter, and—used in conjunction with the a free iPing app—provides feedback on your stroke, tempo, impact angle, and more. More importantly, it keeps track of your improvement over time, giving your short game a fighting chance over the long haul. $30.
Super Stickman Golf: Just because you like watching golf doesn't mean you like getting sweaty, any more than your fantasy football team means you like getting pounded to the turf. The armchair duffer should kill time during commercial breaks with this joyfully fun iOS game, which combines challenging courses with special balls, throwback graphics, and the ability to play 261 unique holes as close to the air conditioning vent as you like. $1 (sale price).
SkyCaddie SGX: While you could entrust some stoned high school kid to provide you with essential inside course information, the SkyCaddie may prove a bit more reliable. With 30,000 pre-loaded, ground-verified course maps, it knows more about the terrain than slack-jawed Ricky ever could. Okay, so SkyCaddie's not going to lug your bags around for you. But at least you don't have to tip it. $300.
SensoGlove: Iron Man's repulsors, they're not. But as far as electronic handware goes, this may be your best at beating back bogies next time you hit the links. The SensoGlove measures how much pressure you're gripping the club with, beeping if you exceed your target hold at any point during the swing. Just make sure to remove it before take out your 18-over-par performance on your golf cart with your pitching wedge. $90.
Top image credit: Shutterstock/Ryan Jorgensen