What started out as perhaps the silliest, most light-hearted episode of The Flash ever ended with one of the series' darkest moments, all at the hand—or rather the feet—of Zoom, a foe that makes the Reverse-Flash look like a petulant turtle. Namely, slow.
There's not really any deep assessments or clever remarks I have about this week's Flash episode, so let's just get into it. "Enter Zoom" begins with Dr. Light seemingly killing the Flash and then a "72 hours earlier" caption, which wouldn't have been even slightly concerning even if we all hadn't all guessed that Barry and the SuperSTARS were going to ask Linda Park to masquerade as her semi-evil, metahuman counterpart from Earth-2 in hopes of catching Zoom.
Basically, the only person opposed to this plan is Caitlin, who points out that even with special Cisco-made gauntlets to replicate Light's powers, Linda is terrible. She spectacularly fails a hilarious Hogan's Alley-esque shooting range which includes cardboard cut-outs of Cisco and Joe as civilians, frequently setting them on fire. (Note to younger readers: Hogan's Alley is an old reference, but too perfect for me to bother updating. Watch this video for proof.)
Interestingly, it's both Barry and Harrison "Harry" Wells who keeping pushing to enact plan as soon as possible, despite Linda's unpreparedness. As we learn through flashbacks and a helpful Cisco vibe, Earth-2 Wells was actually also sent by Zoom to kill Barry, as Zoom has threatened to kill his kidnapped daughter, Jesse. But Wells didn't trust Zoom and threw in with the SuperSTARS, which is actually a very good sign that he's almost certainly not evil, just a dick. As for Barry, Joe worries that he's tries to make up for not stopping the Reverse-Flash himself, but there's actually another reason—Barry still feels empty after being unable to save him mom... just as Earth-1 Wells knew in his final video to Barry. It's the first sign this episode has more to it than just silliness.
G/O Media may get a commission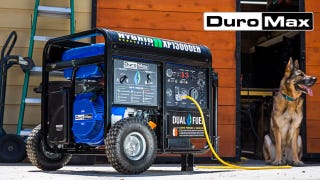 Black Friday Sale
DuroMax Generator Sale
But first, this silliness continues as Linda and Barry enact their "fight"—because somehow Zoom can see through the multiverse tears—in which Iris does the nomal actor's version of "overacting," and Barry has to pretend to be shot and fall down and die. They also give each other little speeches, which are also terrible, while she and Barry basically mutter constantly to each other about whether Linda is doing a good enough job, which she absolutely isn't. I mean, it's supremely goofy, and you really can't blame Zoom for never showing up, especially since he got to force Barry to hold an awkward "death pose" for over an hour. Eventually the Super STARS have to concede defeat, and leave. Linda goes back to work at the Central City newspaper.
Which is of course when Zoom shows up.
If the Reverse-Flash looked charred, Zoom looks like he's been burned alive. He's all black, his mouth is melted shut, and he has eyes that are demonic but far more scary for not being glowing LED lights. All the characters who see Zoom, other than Barry, instantly assume upon seeing him that he is both terrifying and unbeatable. They're absolutely right.
Zoom kidnaps Linda, but doesn't even try to run away. Zoom allows Barry to confront him, and the villain basically kicks the Flash's ass at a million miles per hour. Barry tries to throw lightning at Zoom (like Jay taught him!) but Zoom catches it and throws it back at him. It's awesome. Then Barry tries to get him in freefall where their speed—i.e., terminal velocity—is the same, negating Zoom's power advantage, but Zoom still manages to punch Barry right in the spine, and there's a terrifying crack. (Note: The "terminal velocity" bit is probably the most clever idea ever in what is often—but not always—a very clever show. Well done, The Flash!)
At that point, Barry is basically TKO, and Zoom drags his unconscious body on a failure tour of sorts. He brings Barry to the newspaper, to the CCPD, to STAR Labs itself, all so everyone in the Flash's life knows exactly how beaten Barry is. Everyone is shocked; Wells tries to shoot Zoom with his speed dampening serum, but Zoom easily catches it. Eventually, a gloating Zoom fails to notice Cisco shooting him with the same serum; an outcome made possible only because Zoom couldn't imagine a threat from anyone else on Earth-1. A wounded/somewhat depowered Zoom still manages to escape, and Barry crumples to the floor.
The Flash has been not just beaten, but utterly defeated. Only an extremely lucky shot saved his life and the lives of everyone he knows. But the bad news is only beginning; when he finally wakes up in his familiar hospital bed in STAR Labs, he says something that put a chill down my own spine:
"I can't feel my legs."
Yeesh. Look, obviously we're not going to get a Flash show where the Flash can't run, but right now the Flash is grounded—in the preview for next week's episode, he's actually stuck on Earth-1 Wells' old wheelchair!—and I can't wait to see how the SuperSTARS and Wells-2 deal with the complete triumph of Zoom. Can next week get here fast enough? No, no it cannot.
Assorted Musings:
• Barry reveals his identity to Linda, which, in terms of what he was asking her to do, was a very satisfying and appropriate moment. But will Linda join the SuperSTARS? Maybe with the Light-gloves Cisco created? Possibly, but I'd guess not; the writers clearly still aren't sure how to incorporate Iris into the team, so I imagine Linda would just exacerbate the problem.
• A great moment only the DC multiverse can provide: Harry is listening to his radio/the TV on Earth-2, and hear's that "The Hood" of Starling City has been identified—Robert Queen, father of the deceased Oliver. I never get tired of hearing what heroes' counterparts are doing in multiverses.
• The news footage of Zoom's attack on the college where Jesse goes includes a lengthy shot of Jesse's cell phone as Wells calls. It's pretty ridiculous. "A college has been attacked; here's 30 seconds of a random cellphone laying in the rubble."
• I'm giving Linda the rare quote of the week, even though there were certainly other contenders. As a cardboard cut-out of Joe burns hilariously: "My bad!"
• Um, exactly what does the Flash's badge/emblem/thing have going on with it—or inside it—that makes it so expensive? Cisco kept bitching about having to toss it through the portal to so Linda-Light could prove to Zoom that Barry is dead, but if there's an actual reason it's expensive , I either don't know it or have forgotten it.

• You know what might have helped Barry fill that void in his soul? If his father had stuck around for more than 10 minutes after being released from jail after 16 years. I'm still aggravated about this.
• Here's my vote for the identity of Zoom: Earth-3 Wells. Think about it.
• Nest week: Grodd returns! And Barry can't run! So EVERYONE HAS TO DEAL WITH GRODD BUT WITHOUT THE FLASH. I can't wait!

---
Contact the author at rob@io9.com.