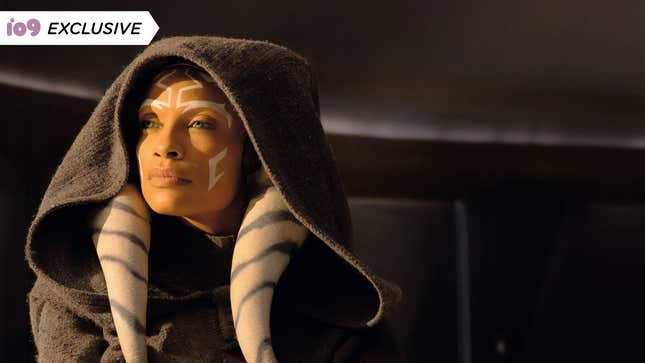 Ahsoka Tano has been a part of the Star Wars galaxy for 15 years now, but she's on the precipice of even greater prominence in Ahsoka. The live-action continuation of the character's journey across animation and now the live-action world of The Mandalorian hits Disney+ in a few weeks. But how is the star behind this part of her story feeling about it?

"Ahsoka is not some character I can just play and then dismiss when I take off the head montrals," Rosario Dawson says in a new interview as part of the latest issue of Star Wars Insider, in stores next week. "It's been a lifestyle shift in connecting to her and performing her. She's in me."
Dawson teases this new era for the former Jedi, who was ostracized by the Order for crimes she didn't commit in Clone Wars, then became a Rebel agent and guide to the nascent resistance cell of Star Wars: Rebels—and how she prepared to go from Mandalorian guest star to the front-liner of her own show—in io9's exclusive preview below.
---
Star Wars Insider: Ahsoka has had quite the character arc so far, from her time as a Jedi to joining the Rebellion. How does the Ahsoka we see in the new series fit into that story, and how does your performance reflect her journey so far?
Rosario Dawson: It's been really powerful to have seen Ahsoka at different moments in her journey, when she has been part of a community and when she has not. She's got this commitment to look out for her friends, to look out for her family. When you saw her in The Mandalorian, Ahsoka was clearly on a mission. She'd been aware of this potential threat with Thrawn and, though it feels like that moment has passed, she's now gathered enough intel to know better. What is exciting at this moment, in Ahsoka, is we're catching her as she's making a transition and having to dive back into relationships and histories that she has with people. Things have definitely changed. The Rebellion might have been successful, but there's a fracture that has kept everyone on their toes.
Star Wars Insider: To embody Ahsoka's warrior aspects, you've had to train on a whole other level. How did you find the process of getting into character, from both training and makeup standpoints?
Dawson: As far as my costume and makeup, we kept adjusting it throughout filming, according to the new possibilities offered by technology.
I trained two hours a day, seven days a week. And when we were filming, we would be shooting between seven to 12 hours of fighting, and then I'd learn the next fight. I've never worked on anything so physical before. It really was all encompassing. But I loved that, because that's who Ahsoka is. It's her! Every fiber of her being is on the line at every given moment, so it felt really good to have that strength. It was this amazing mental, emotional, physical experience.
Our stunt coordinator, Ming Qiu, looked at Ahsoka's fighting style, and said, "That's not physically possibly for a human, so let's see what we can do to figure out how to do that move." We tried to do as many stunts as possible practically. We had ropes and pulleys and all kinds of things to make them work. There was a lot of experimentation, using technology that was developed while we were filming.
That's the thing about this kind of role—you have to be able to do hard things.
I did everything I could to be physically prepared every day, trying to get a good night's sleep and eating well. I've mentioned it before, but Ahsoka is not some character I can just play and then dismiss when I take off the head montrals. It's been a lifestyle shift in connecting to her and performing her. She's in me.
Words by Amy Ratcliffe.
---
Star Wars Insider #220, which also features new original fiction from Alphabet Squadron author Alexander Freed set around the events of Return of the Jedi, an interview with High Republic author Lydia Kang, a behind-the-scenes look at The Bad Batch, and more, hits shelves next Tuesday, August 15. Ahsoka begins streaming on Disney+ August 23.
---
Want more io9 news? Check out when to expect the latest Marvel, Star Wars, and Star Trek releases, what's next for the DC Universe on film and TV, and everything you need to know about the future of Doctor Who.