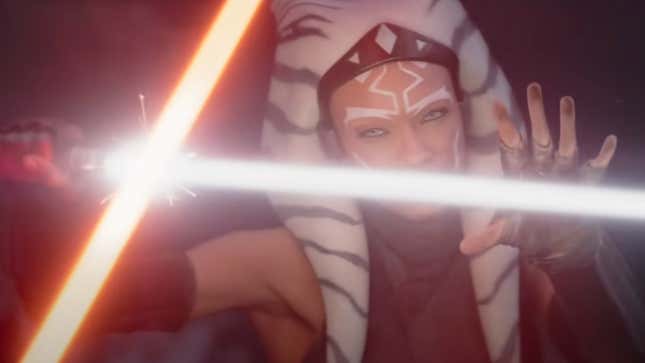 "Warrior. Outcast. Rebel. Jedi," the first trailer for Ahsoka blares at us, trying to distill the life of one of Star Wars' modern success stories—across mediums and eras as the titular heroine now finds herself on the precipice of her own live-action series—into just four words. But such a task is never going to be easy in a fandom as ardent, or as nitpicky, as Star Wars.

Spoilers of the Week Feb.11th
Such was the case when, this past weekend, a new TV spot for Ahsoka—highlighting the return of Hayden Christensen as Anakin Skywalker—saw voiceover from Anakin refer to himself as Ahsoka's master. Between that, and a similar title card that suggested the show is about how "a new Jedi will rise," there was a certain amount of consternation from some corners of online fandom that Ahsoka was presenting a reality of Star Wars past that didn't align with established truths. "Anakin was never a Jedi Master, that was the point of Revenge of the Sith!" "Ahsoka left the Order, she's not a Jedi, that's what she said in Rebels!"
These are, of course, things that are technically correct: the best kind of correct in the eyes of a fandom that craves the sanctioned knowledge of a coherent, codified canon. Anakin Skywalker never achieved the rank of Jedi Master, Ahsoka Tano renounced the title of Jedi and her connection to their Order. And yet, we live in a Star Wars universe where Anakin was undoubtedly the master to Ahsoka during The Clone Wars, and we live in one where Ahsoka is not a member of the Jedi Order, but in many ways still indeed a Jedi—arguably more of one than the Council was by the time she left.

The latter of these is the one that's more complex a debate than the former (by a significant margin; it's unfathomable a Star Wars fan mad enough to see Anakin called a master would not then categorize his Clone Wars relationship with Ahsoka as anything other than that of master and apprentice—all else is just nitpicking). Is Ahsoka Tano a Jedi? Is she the future of the Jedi? What even is it, exactly, that makes a person a Jedi anyway? These are questions that aren't entirely best answered by 40-second TV spots aimed at a casual audience who arguably stands a better chance of knowing Ahsoka Tano as a character from The Mandalorian before they know her as one from Clone Wars.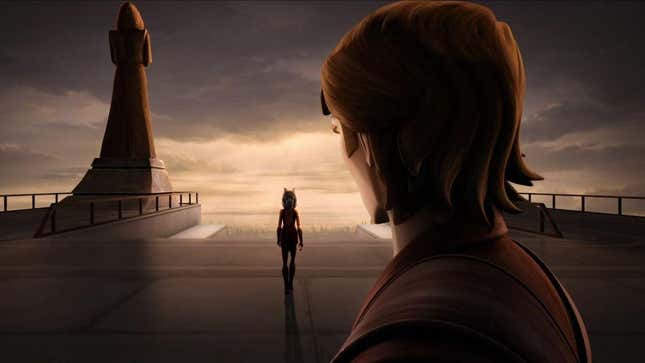 The answer to these questions we have right now is, of course, some variation of "it's complicated." Ahsoka was indeed a Jedi in so much she was a Padawan initiate trained through the Jedi Order. She spent years and years of her life, of her upbringing, in this definition of being a Jedi: a member of the Jedi Order. But did she cease to be a Jedi—from a theological, ideological standpoint—when she chose to leave the Order behind, after its recalcitrance left her abandoned by the organization that had been her life? Even if, as Ahsoka tells Darth Vader during their duel on Malachor in Rebels, she is no Jedi, it would be a difficult argument to make that she doesn't at least still live by the ideals and ethics that were instilled in her as being "Jedi:" a faith in the light, a defender of the weak in the face of injustice, someone who seeks to understand and connect with the Force and explore its mysteries, instead of using its powers to control and dominate. To deal in absolutes here, with the idea of being a Jedi being so intrinsically tied to the Order itself—and by defining Ahsoka's own identity through that one lens—is to give ourselves to an extremely limiting read of the text.
But these are indeed questions that hopefully Ahsoka the show itself will attempt to answer as well. Star Wars on the surface has always been a saga of black and whites, but finds itself at its most interesting somewhere in the murky middle of those two things. Ahsoka has a chance to do what the sequel movies struggled to articulate, what current interpretations of Luke Skywalker in The Mandalorian and The Book of Boba Fett have, by and large, failed to understand (which is, in part, some of the reason for the heightened, occasionally nitpicky response to Ahsoka): to find a nuance about what being a Jedi actually means beyond a specific mantle tied to the specific dogma of a specific organization.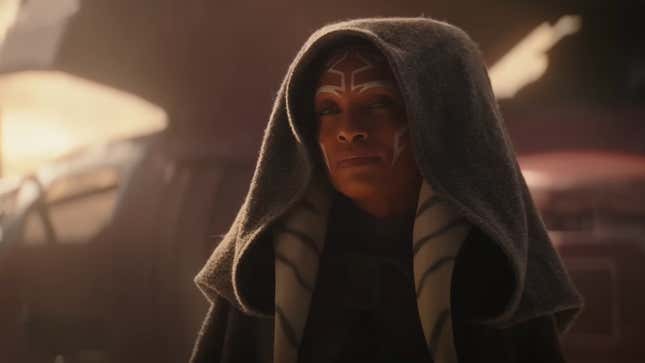 Before the prequels introduced us to the Jedi Order and its litany of failings as an institutional force—failings Ahsoka's arc would go on to compound and explore even further in Clone Wars—that is, after all, the idea of the Jedi we were presented with in the original Star Wars movies. Ahsoka's journey now as she navigates the galaxy largely alone, trying to do what she can for herself and for the universe to the best of her own intentions, could bring us back to an idea of the Jedi that is more akin to that than anything we saw of her in either Rebels or Clone Wars.

To open our mind to what the idea of being Jedi means once again, to find balance between diametrically opposed definitions and concepts? That in and of itself would be quite the Jedi thing.
---
Want more io9 news? Check out when to expect the latest Marvel, Star Wars, and Star Trek releases, what's next for the DC Universe on film and TV, and everything you need to know about the future of Doctor Who.