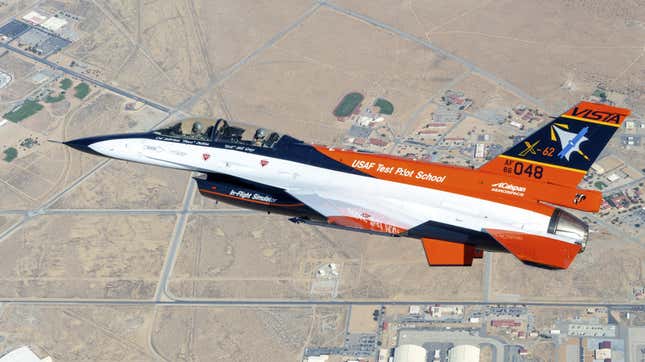 The Defense Advanced Research Projects Agency (DARPA) announced it has developed an Artificial Intelligence (AI) algorithm for a self-flying F-16 fighter jet less than three years after creating the control simulated F-16 jet.

You Could Soon Get Cash Back for Your Canceled Flight
The flight took place on Lockheed Martin's VISTA X-62A, which Lockheed Martin said in a press release is a modified F-16D Block 30 Peace Marble Il aircraft upgraded with Block 40 avionics.
DARPA used its Air Combat Evolution (ACE) program to create the autonomous jet but says the planes are not intended to be flown without a pilot present. The Air Force Test Pilot School at Edwards Air Force Base in California flew the AI F-16 jet over several days and tracked the live flight data. What they found was the jet could be trusted to conduct flights on its own, but said a safety pilot was on board in case a problem arose.
"Thanks to the outstanding teamwork and coordination between DARPA, the Air Force Test Pilot School, the Air Force Research Laboratory, and our performer teams, we've made rapid progress in Phase 2 across all areas of the ACE program," Air Force Lt. Col. Ryan 'Hal' Hefron, the DARPA program manager for ACE, said in DARPA's press release.
"VISTA [Variable In-flight Simulator Test Aircraft] allowed us to streamline the program by skipping the planned subscale phase and proceeding directly to a full-scale implementation, saving a year or more and providing performance feedback under real flight conditions."
During the test phase, Hefron said the F-16 took off and landed in varying conditions, adversaries, and utilizing simulated weapons capabilities, but ACE did not take note of any issues. The ACE program is also being supported by the Test Pilot School to provide additional training and information to discern the level of comfort pilots have when flying an AI jet.
Additional tests include whether the pilots trust the jet in visual-range air combat, also known as a dogfight, while the pilot simultaneously focuses on "larger battle management tasks in the cockpit."
The autonomous F-16 jet is just one out of more than 600 AI Department of Defense projects and has been funded by the U.S. government since 2018 when it signed on to spend upwards of $2 billion on AI projects over the course of five years, VICE reported. But in 2022, the government is reported to have spent $2.58 billion on AI research and development such as building robots and wearable technology.
Stacie Pettyjohn, the director of the Defense Program at the Center for a New American Security, told The New Yorker that the AI F-16 jet will "decompose our forces" in what DARPA calls "mosaic warfare." This advancement will allow for limited casualties because fewer humans will be needed to man the jets.
"These much smaller autonomous aircraft can be combined in unexpected ways to overwhelm adversaries with the complexity of it," Pettyjohn said. "If any one of them gets shot down, it's not as big of a deal."