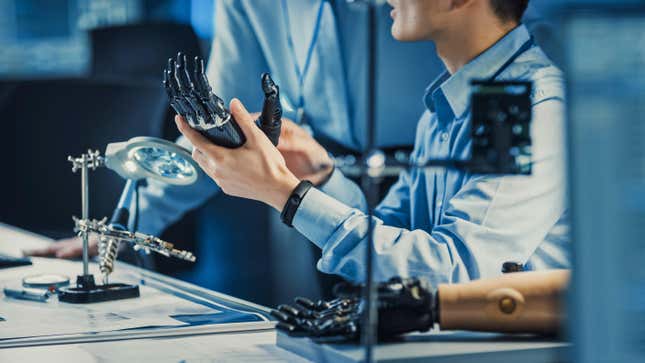 The labor market is expected to drastically change over the next five years, according to a new report that projects overall employment growth will decrease by roughly 14 million jobs. World Economic Forum's Future of Jobs 2023 report finds that ever-changing technological advancements, especially AI, will shake up the workforce in the year ahead.
Perhaps unsurprisingly, the media industry is forecast to be the most highly affected with a churn of 32% of its labor force as technology and artificial intelligence advances. Other affected positions include government officials, transportation, real estate, and financial services. Overall, the survey of employers around the world estimates that, between 2023 and 2027, 83 million jobs will be lost while 69 million new jobs will be created.
This projection does not necessarily mean jobs in these sectors will become obsolete, only that instead of workers being fully replaced by AI, the positions will be replaced by people who can use AI, ​​Shelly Palmer, a professor of advanced media at Syracuse University, told NBC15 News.
"It's not going to replace you. Someone who knows how to use it well is going to take your job, and that's a guarantee," she said. "While the auto worker may be displaced because they are not as good at welding or as painting as the robot, there are probably 35 people that have to be involved in the creation and maintenance of that device that welds better than a person."
There are some positions, however, that may not stand a chance in the job market as the net employee growth decreases year-over-year, according to the 2023 report. Data entry clerk roles appear to be in the most precarious position, with an estimated eight million jobs lost, followed by administrative executive secretaries with just under six million job reductions.
In lieu of these positions, there are new job openings on the horizon, and as AI-centered technology becomes more prevalent, so do the jobs surrounding them. "The fastest-growing roles relative to their size today are driven by technology, digitalization, and sustainability," the report said, forecasting that the fastest-growing position will be AI and machine learning specialists, factoring in an employment growth rate of 39% within the next five years. Beyond the AI tech-savvy position, sustainability specialists came in at number two, with a 33% job growth over the next five years followed by business intelligence analysts at 32%.
The Forum's Managing Director, Saadia Zahidi, told the Radio Davos podcast that in light of the report, companies will still find it important to retain leadership skills that are entirely separate from AI, allowing workers to build connections with one another, saying it's "the traits that make us human, the traits that make us able to relate with each other and to get interesting, new, innovative, creative things done in the workplace."
The caveat is that employers will still look for those individuals that have AI-driven skillsets, saying those are "among the top skills that employers will try to focus on for their workers, AI, and big data." Zahidi added that the future of the workforce will come down to "this unique combination of analytical skills and creativity along with leadership and social influence, along with the ability to actually use technology. Especially AI and big data."
Click through to see what's projected to be the top 10 fastest-growing jobs of 2023.