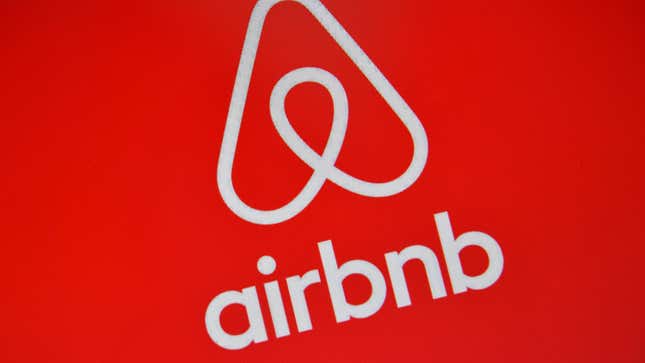 Airbnb users who themselves may have done nothing wrong can be banned from renting vacation spots if they are deemed "closely associated" with another user who has already been banned. The short-term rental company says the plan is intended to bolster safety on the platform, but tech advocacy groups speaking with Gizmodo questioned the "half-baked" policy's accuracy and said it appeared difficult, if not impossible, to enforce fairly.

Airbnb would not say how long the ban by association policy has been in effect and didn't provide more details on the exact types of security violations users have to violate to get those associated with them banned. An Airbnb spokesperson told Gizmodo the company takes actions to restrict accounts of people it believes "are likely to travel" with another user who has been removed from the platform for safety reasons. Users can appeal the decision, but there's a catch. The person they are "closely associated" with must have their ban reversed first. Alternatively, Airbnb can reverse the decision if it determines the "closely associated" user isn't actually closely associated with a banned user. That potentially leaves users who do happen to know rightfully banned users in limbo. The policy was first revealed by Vice.
"As an online platform that facilitates real-world travel and connections, this is a necessary safety precaution," the spokespersons told Gizmodo in an email.
Guilty by association: Airbnb bans users (and their friends) for violating safety policies 
An Airbnb spokesperson did say that the arms-length ban applies to any safety related issues associated with the initially banned user and doesn't just apply to background check removals. The spokesperson told Vice the company is aware the policy isn't perfect, but said it was necessary, particularly in examples where someone close to a banned user tries to re-book that user's canceled reservation with the same credit card number. The ban by association attempts to close that re-booking loophole, but may inevitably wind up unfairly impacting benign users in the process.
That limited amount of insight into Airbnb's policy doesn't go far enough for Fight For the Future executive director Evan Greer, who told Gizmodo the policy, even if well intentioned, appears to lack nuance and transparency.
"Every company that bans users, for any reason, needs to have an accessible, clear, and transparent way for users to appeal those bans," Greer said. "Such policies should be crafted not just with safety in mind, but also to comply with the fundamental principles of human rights and free expression."
Greer went on to say the ban by association policy seemed like an "overreach," and appeared difficult to enforce evenly. Others, like Surveillance Technology Oversight Project executive director Albert Fox Cahn said questions remain about the accuracy of Airbnb's ban, particularly those concerning background checks. Inaccurate bans could then have a doubling effect when extended to associated users.
"Automated background checks frequently are more error-prone for individuals with non-English last names, putting the tech firm at risk of potential litigation for housing discrimination," Fox Cahn said.
Complicated tradeoffs over safety and accessibility are common themes in Airbnb's 14-year-history. Rare, but nonetheless horrific accounts of guests attacking hosts and destroying their property have forced Airbnb to implement background checks and numerous safety provisions over the years. Recently, the company extended a temporary ban on parties and events in its listing following a wave of shootings. Prior to that, ahead of Joe Biden's presidential inauguration, the company said it would cancel reservations of users who had stormed the capitol on January 6. Airbnb has reportedly had a policy removing confirmed members of hate groups from its platform since 2017.
Removing users simply for close connections to a banned user however, according to Fox Cahn, appears to go a step further and unfairly punishes a subset of users who didn't necessarily do anything wrong.
"Since the founding of this country, we've held that it's illegal for the government to punish one person for the crimes committed by their relatives," FoX Cahn added. "And even if companies remain free to collectively punish their would-be customer, it seems both unjust and like terrible business."