The original Aliph Jawbone headset was flawed. It was beautiful, but wired.
The redesigned Aliph Jawbone looks to be everything the original wishes it was. It's Bluetooth, and uses military noise canceling tech that can drown out the violent screams of traffic, lawnmowers, and anything else NOT your voice by using an array of microphones. Walt Mossberg had the first look: He found it worked great, except against wind noise. (Kind of a problem)
And in case you didn't notice, it happens to be the best looking headset ever made, IMHO. The set was designed by the ultra talented Yves Behar, the industrial designer known for many things, but maybe most recently his Leaf Lamp and the $100 Laptop. It comes in red, black, and silver from Cingular, for $120, starting today.
I've got two more pictures for you after the jump. And we'll give you our full take soon, as we were lucky enough to get a few sets of our own to check out.
G/O Media may get a commission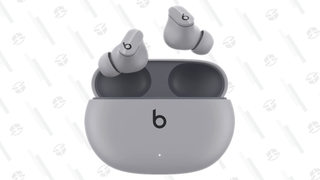 Aliph Jawbone [Jawbone]