This is going to be a great year for comic book movies — but it's also shaping up to be a fantastic year for comics as well. There are tons of inventive, strange and just plain thrilling comics coming out in 2013. Including a Sandman prequel, a new DC Universe mega-event, Greg Rucka creating a brand new heroine, and a graphic novel from the Secret Six team of Gail Simone and Jim Califiore.
Here are all the comics events we're most excited about in 2013.
Untitled Superman Series (DC Comics)
Writer: Scott Snyder / Artist: Jim Lee
The writer who's brought the most excitement to Batman lately is coming to the Man of Steel, with a new series that we don't know much about yet — except that it's an idea Snyder's been cooking up for a while, that he describes as "the thing I wanted to do with him." And he's teaming up with superstar artist and DC co-publisher Jim Lee, so it ought to have that old-school Wildstorm Comics zing to it. Also coming from Snyder this year: The Wake, a new 12-issue horror/science fiction series dealing with a horrifying realization of human evolution.
G/O Media may get a commission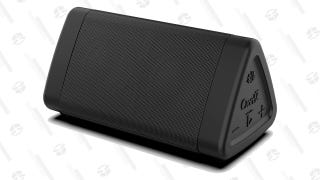 Save 31%
Oontz Angle 3 Portable Bluetooth Speaker
The Age of Ultron (Marvel Comics)
Writer: Brian Michael Bendis / Artist: Bryan Hitch
At long last, it's here — the day when Ultron takes over the freaking world. The A.I. with Daddy Issues is finally stepping up its game, and the Marvel heroes will have to have a whole lot of words with he. This 10-issue event, which crosses over with a ton of Marvel books, launches in March. Oh, and I guess Ultron's not a naked metal lady any more. Also coming from Bendis: A brand new Guardians of the Galaxy series, to get you ready for their huge movie debut, and a brand new Uncanny X-Men series, in time for their 50th anniversary.
Star Wars (Dark Horse)
Writer: Brian Wood / Artist: Carlos D'Anda
We already thrilled to our first glimpse of Princess Leia flying an X-Wing — but it looks like there'll be plenty more to look forward to in this new series from the Demo/Mara writer. As you've probably heard, this series acts as though it were written in 1977 and the original Star Wars were the only source material out there. Which means we get lots and lots of the original recipe, including Darth Vader being pissed off about the destruction of the Death Star and Luke still fumbling towards his destiny. Cannot wait.
Leaving Megalopolis
Writer: Gail Simone / Artist: Jim Califiore
This creator-owned graphic novel from the team behind Secret Six gained more than three times its target on Kickstarter — and it sounds fantastic. It's about a city where all the superheroes suddenly turn into homicidal maniacs, and it's up to a group of people to survive, at all costs. They promise it'll be even darker than Secret Six, and it could be the most exciting single comic of 2013. As her Welcome to Tranquility comic proved, Simone is often at her best when she's creating fresh original concepts straight out of her demented brain.
Constantine (DC Comics)
Writer: Robert Venditti / Artist: Renato Guedes
Sigh. I miss Hellblazer. Like, a lot. John Constantine doesn't always get enough props for helping to originate the "hard-boiled magical badass" archetype that's ruling urban fantasy novels nowadays, and the foul-mouthed profane version in the Vertigo series was pretty much perfect. But now Constantine's been brought into the DC Universe, and the writer of the original Surrogates comic promises to keep him true to form. The new series sees a younger, unmarried Constantine settling in New York City to get away from his roots. I guess it'll be fun to see Constantine interact with the DC Universe more — including the inevitable Batman gust spot that every B-list and C-list DC comic has at some point.
Sandman (Vertigo Comics)
Writer: Neil Gaiman / Artist: J.H. Williams
Probably the year's most anticipated comic, this six-issue miniseries launches in November. Gaiman returns to his iconic character with a prequel that answers a huge lingering question. As Gaiman explained in a pre-recorded message at Comic Con:
When I finished writing The Sandman, there was one tale still untold. The story of what had happened to Morpheus to allow him to be so easily captured in The Sandman #1, and why he was returned from far away, exhausted beyond imagining, and dressed for war.
Having art from the Promethea artist certainly doesn't hurt, either.
Superior Spider-Man (Marvel Comics)
Writer: Dan Slott / Artist: Ryan Stegman
Possibly the biggest shake-up since the Clone Saga. Or maybe, just since Satan annulled Spider-Man's marriage. In any case, Spider-Man has had a big change in his circumstances lately, and he's sort of not really Spider-Man any more. How will the new, not necessarily improved, Spider-Man cope with being a hero in such a complicated situation? Will he actually be able to do the right thing, or will he revert to type? And how long before everybody figures out what's happened? He's also crossing over into Avenging Spider-Man. It should be interesting, at any rate.
Lazarus (Image Comics)
Writer: Greg Rucka / Artist: Michael Lark
The Gotham Central duo reunite for the story of Endeavor, the "genetically modified one-person security detail" in a dystopian future where the gap between rich and poor has become even more horrendous and the economy has basically collapsed. Explains Rucka, "Lazarus' is the story of a woman who discovers nothing is what she's been led to believe it is, and her attempts to overcome it and perhaps try to make things right." Even though dystopias have been done to death lately, this looks like an especially vivid, awesome one.
Katana (DC Comics)
Writer: Ann Nocenti / Artist: Alex Sanchez
Katana, the Japanese sword-wielding hero from The Outsiders, is Batman's new sidekick in his new Cartoon Network show, so she's also getting a new solo comic in February. And she's being written by Nocenti, who did some creepy, weird Daredevil comics back in the day. Nocenti says she wants to connect Katana to the Samurai tradition and Kurosawa films. Could be fun!
Colonized (IDW)
Writer: Chris Ryall / Artist: Drew Moss
The separatist town of Carbon Falls Collective is slowly struggling with the challenges of becoming a fully green community — when aliens land and reanimate all the town's dead, in this four-issue miniseries coming in April. Plus there's a rogue ATF agent, on the hunt for the town's weapons cache? The alternate cover says it best: "Zombies Vs. Aliens." Sounds like a winning formula.
The X-Men: 50th Anniversary (Marvel Comics)
No clue what's planned for this — but you have to assume that Marvel is going to roll out something pretty interesting for the 50th birthday of the most misunderstood mutants in any universe. Already, there's the aforementioned Uncanny X-Men series, and all the fallout from Avengers vs. X-Men. But there's probably something else coming later in the year to celebrate 50 years of X-angst, I'd imagine.
The Surface (Image Comics)
Writer: Ales Kot / Artist: Langdon Foss
The writer behind the weird comic Change is launching a new miniseries in 2013, about a group of young hackers who decide to flee the United States because our laws have become too oppressive and dystopian. They go in search of The Surface, a mythical place, that everybody has heard of but nobody has seen — but then they find a "psychedelic SF nightmare" that exceeds their wildest dreams as well as their most insane fears. This miniseries is coming in the second half of 2013 sometime, but meanwhile, Kot is also launching a new superspy comic called Zero.
Trinity War (DC Comics)
Writer: Probably Geoff Johns / Artist: Unknown
This is DC's huge event for 2013, and we don't know much about it yet — except that it's the biggest thing since the launch of the New 52. And it's literally a trinity of stories, melded together, each of which redefines the universe somehow. Leading up to the event are a new series starting in February, Justice League of America, featuring "the most dangerous" heroes in the DC Universe including Catwoman, Green Lantern, Hawkman, Vibe, Starman and... Vibe? Okay, sure.
True Lives of the Fabulous Killjoys (Dark Horse)
Writers: Gerard Way and Shaun Simon / Artist: Becky Cloonan
The Umbrella Academy creator and famous musician is back with a new miniseries coming from Dark Horse in June. As Dark Horse explains:
In My Chemical Romance's critically acclaimed album Danger Days: The True Lives of the Fabulous Killjoys, the Killjoys fought against the tyrannical megacorporation Better Living Industries. It cost them their lives, save for one-the mysterious Girl. Today, the followers of the original Killjoys languish in the desert while BLI systematically strips citizens of their individuality. As the fight for freedom fades, it's left to the Girl to take up the mantle and bring down the fearsome BLI or else join the mindless ranks of Bat City!
New Avengers (Marvel Comics)
Writer: Jonathan Hickman / Artist: Steve Epting
The "Illuminati" — one of the weirder ideas of the past decade or so — are back together, in this series. But this time, they have a purpose: keeping the Marvel Universe from imploding. And they're led by the Black Panther, who's a Machiavellian genius in his own right and a former leader of an entire country. So this actually makes sense, and could be rather a lot of fun as well.
East of West (Image Comics)
Writer: Jonathan Hickman / Artist: Nick Dragotta
And meanwhile, Hickman is launching this science fiction Western series, in which the four horsemen of the Apocalypse decide to hunt down and kill the President of the United States. For some reason. Hickman is also writing and drawing a graphic novel called Feel Better Now, about psychiatrists who decide to mess with their patients.
Multiversity (DC Comics)
Writer: Grant Morrison / Artists: Frank Quitely et al.
The other big DC event for 2013, this series, which has been in the pipeline since 2009, sees Morrison exploring the nature of the Multiverse in the DC Universe — including a visit to Charlton Comics for an adventure with the classic Blue Beetle. Expect something along the lines of Seven Soldiers. Coming in late 2013. (Thanks to Stephen Totilo for the reminder!)
Sources: Comics Publisher Sites, Newsarama, Comic Book Resources, Comics Bulletin, plus this list by DC Women Kicking Ass was super helpful.