Amazon is planning on releasing at least eight new Alexa-powered devices before the end of the year, according to CNBC, including everything from some type of "in-car gadget" and audio equipment to, uh, a microwave oven.

From the CNBC report, it's not clear which of the devices will feature full Alexa voice control versus simply being Alexa-enabled. In other words, they won't necessarily allow users to simply yell at their audio gear or microwave to get it going—they might require users yell at an Amazon Echo or equivalent device with a built-in microphone. CNBC wrote:
The devices include, among others, a microwave oven, an amplifier, a receiver, a subwoofer, and an in-car gadget, people familiar with the matter said. All of the devices will be Alexa-enabled, meaning they can easily connect to the voice assistant. Some of the devices will also have Alexa built in.

Amazon is expected to reveal some of these devices at an event later this month, according to an internal document describing the plans.
Amazon has been pushing Alexa hard for quite some time, mainly in the hopes it can leverage the smart assistant to collect user data for marketing purposes (something that may or may not be panning out). As CNBC noted, the new devices are designed to make Alexa more omnipresent in "areas where people spend most of their time—at home and in the car." The move would also put Amazon in direct competition with companies like Sonos and GE, which already offer Alexa-powered versions of audio equipment and microwaves respectively.
It's not clear whether anyone would go out of their way to purchase a microwave with Alexa built in, though CNBC wrote Amazon has already launched "partnerships with home builders" like Lennar. That could mean some new homes may come with Alexa already built into an array of devices.
G/O Media may get a commission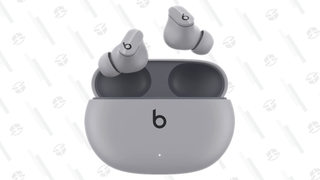 Variety additionally noted that Amazon's existing Echo speakers are not known for high-end audio, so the introduction of subwoofers and amplifiers could make it more competitive with customers looking to get the most out of their home audio systems. Shares in Sonos fell slightly (two percent) following CNBC's report, according to Variety.
[CNBC]