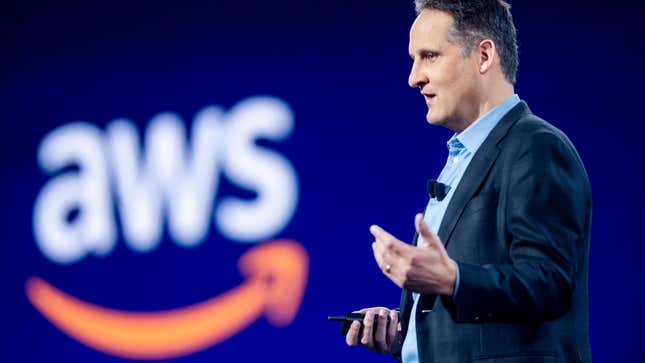 Amazon has officially started up its most recent round of employee reductions. The company is kicking off its previously announced layoffs of ~9,000 staff by axing workers in its Amazon Web Services (AWS) and human resources sectors.

Asus ROG Flow Z13 Gaming Tablet Review
The cuts come according to plan, as an internal memo from the the tech giant last month hinted that AWS and HR staff would be on the chopping block. But Wednesday is the beginning of the actual firing spree. Impacted employees in the U.S., Canada, and Costa Rica have all received notice, as of this afternoon, according to two internal memos from Amazon execs, re-published by CNBC. Staff in other regions are set to find out the status of their positions soon, the memos note.
"It is a tough day across our organization," AWS CEO Adam Selipsky wrote to staff, per CNBC. "We are working hard to treat everyone impacted with respect," he added. Laid-off employees will receive transitional health benefits, severance, separation pay, job search support, and other services, the company claims. Yet, regardless of the company's stated intentions and comparatively cushy departure packages, AWS employees are probably not feeling very respected.
Amazon's cloud computing arm is easily one of the company's most profitable sectors. Even amid the ongoing economic tech turmoil of the past year, AWS has remained a growing money maker. In its most recent quarterly report, Amazon noted that AWS's sales had increased 20% year-over-year and that AWS's income had gone up by about 2% between the end of 2021 and the end of 2022. "Both the size of our business and the size of our team have grown significantly over recent years, driven by customer demand for the cloud and for the unique value AWS provides," Selipsky wrote. Apparently though, that growth wasn't enough to justify keeping AWS workers on board. A corporate sector is doing badly? Layoffs. A division is thriving? Layoffs. In the world of big business investor relations, the answer is always the same.
The explanation for the new Amazon cuts, according to the execs' memos: reorganized priorities and efficiency. "It is critical that we focus on identifying and putting our resources behind our top priorities—those things that matter most to customers and that will move the needle for our business. In many cases this means team members are shifting the projects, initiatives or teams on which they work; however, in other cases it has resulted in these role eliminations," Selipsky said.
Though there could be other reasons at play behind the restructure. Amazon may have accidentally over-advertised and over-hired for AWS jobs by a factor of 3 in 2022. The sector posted nearly 25,000 job openings online when it was only approved to recruit for under 8,000, according to documents leaked by Insider in March. Note: Amazon has denied Insider's account. "AWS has never over hired beyond their planned and approved headcount. Unfortunately, Insider made incorrect assumptions based on an anonymous source and a document that's both outdated and taken out of context," the company wrote in a statement to Gizmodo.
In total, this newest wave of Amazon layoffs will impact about 9,000 workers—that's on top of the ~18,000 the company already slashed earlier this year. AWS employees were affected in that earlier round of January cuts too, along with employees in Amazon's grocery, health, and robotics divisions. All combined, Amazon's 2023 layoffs are the largest in the company's nearly 30-year history, according to CNBC. And maybe this will finally be enough to appease head honcho Andy Jassy and to keep investors hooked.

In the long-term layoffs are a time-tested bad strategy for a company's sustainability. But in the short-term: big number go up, overhead go down. Likely, Amazon will talk up its recent cost-cutting efforts and boosted efficiency in its earnings report tomorrow afternoon.
Update 4/27/2023, 11:40 a.m ET: This article has been updated with a statement from Amazon denying allegations of over-hiring at AWS.