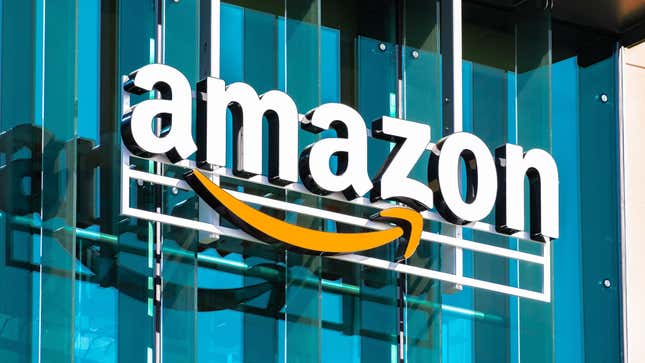 Amazon is thinking about releasing a web browser, a boring-sounding project that could have massive implications. The company has sent a survey to users asking detailed questions, including which features would "convince you to download and try" a "new desktop/laptop browser from Amazon."
"We want to understand what our customers value about current web browsers, and what they wish the browsers could do better," Amazon wrote in the survey, first spotted by Nicholas De Leon of Consumer Reports. "By participating in this survey, you will contribute to innovations that improve browsing experiences for millions of people around the world."
Amazon did not immediately respond to a request for comment.
The survey asked a variety of questions. Most telling was the last question: "Imagine that there is a new desktop/laptop browser from Amazon available to do. Select which of the following you would most like to know more about." The survey went on to list topics such as privacy, syncing passwords across devices, and shopping features. I'm imagining it right now, Amazon.
You can click through the slideshow above to see more details for yourself. Users were asked to rate the importance of features including text to speech, extensions, the availability to sync data across desktop and mobile devices, and—notably—blocking third party cookies.
Amazon seems to be seriously considering a web browser of its own, and it comes at a time when it would have an unusual impact on the advertising business. The ad industry is bracing for cataclysmic change as Google moves closer to killing third-party cookies in Chrome, the world's most popular web browser, which would kneecap one of the primary ways businesses track consumers for ads.
Most people don't think of Amazon as an ad company, but it's raking in astonishing marketing revenue. Amazon's ad business made almost $38 billion dollars in 2022, which is more than it made on Prime and all of its other subscription services combined.
Part of what makes Amazon so attractive to marketers is the fact that the company sits on a treasure trove of data about what consumers are buying and what their shopping habits are like. If Amazon could match that information with the data collection that comes from a web browser, it could tip the scales of internet advertising in favor of the retail giant.
Amazon is, at the very least, doing its homework. The survey asked what users use their browsers for, how often they run into frustration with their tabs, and how many hours a day they spend using it.
This isn't Amazon's first dip into the browser waters, though. Amazon did put out a web browser once, which it called Silk. First launched in 2011, Silk was meant for Amazon's own products. The company kept working on it, and Silk last made news when it came to the Echo Show in 2018. The survey suggests, however, that Amazon may release a browser for desktops for the first time.