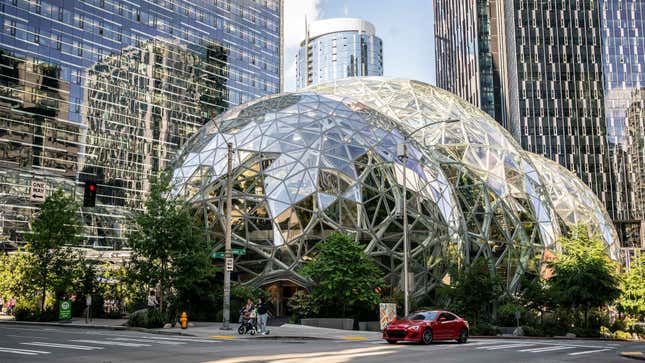 Work from home flexibility is coming to an end for Amazon employees. Though most of the company's ~1.5 million full and part-time workers labor in warehouses or as delivery drivers—the e-commerce giant also employs hundreds of thousands of corporate and tech staff.
Uh Oh, Amazon Bought Your Favorite Robot Company
After years of pandemic-induced policy allowing employees to telecommute, those desk-based workers will have to return in-person to Amazon offices at least three days per week, beginning May 1. The company's CEO, Andy Jassy, announced the official change in a Friday afternoon blog post.
"Because the pandemic lasted as long as it did, we were able to observe various models—some teams working exclusively from home, some in the office full-time together, and many flavors of hybrid—over a meaningful period of time," the Amazon CEO wrote. And, ultimately, he said these observations have "led us to conclude that we should go back to being in the office together the majority of the time (at least three days per week)."
Though notably, the blog post doesn't cite any quantitative evidence that Amazon employees have been less productive at home. Instead, Jassy falls back on qualitative intangibles.
G/O Media may get a commission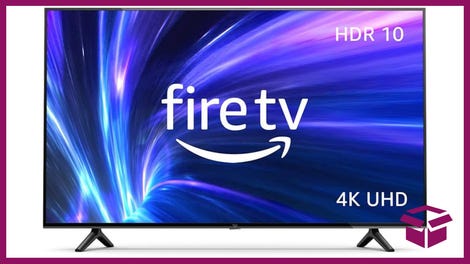 42% Off
Amazon Fire TV 50" 4K Smart TV
To explain his and his company's reasoning, the CEO cited improved collaboration, innovation, and company culture when people are physically present together in an office space as driving forces behind the move to end Amazon's work-from-home era. 
Jassy has previously espoused similar ideas. "You just don't riff the same way," he said about a remote workforce in March 2021, according to a report from Geek Wire. "It's really changed the way that we've had to think about how we drive innovation," he added.
Other massive tech companies like Apple, YouTube, Tesla, and Twitter have also reverted to mandatory, in-person office policies—some hybrid, some full-time. Yet in many cases, management's demands have not been met kindly by employees. 
After YouTube execs announced the end of work-from-home, some of the company's contract workers said they were prepared to strike over the change earlier this month.
Apple, in particular, faced a fraught battle with its employees over the right to continue working remotely. Back in November 2021, the company first announced plans to bring employees back to the office beginning February 2022. Apple later delayed those plans due to Omicron's spread, and when it finally tried to re-ignite its in-person crusade, employees pushed back. Then, the company delayed again. And again, employees resisted the change. Most recently, CEO Tim Cook has doubled down on the mandate. 
Though execs and CEOs across sectors seem to believe that employees are less productive working from home than they are in the office. The actual data doesn't support those claims. In fact, a 2020 Harvard study found that workers clocked more hours from home than the office. And those who aren't forced to commute devote an average of 35% of that saved time to...getting more work done. 
"We know that it won't be perfect at first, but the office experience will steadily improve over the coming months (and years) as our real estate and facilities teams smooth out the wrinkles," Jassy promised on Friday. "I know that for some employees, adjusting again to a new way of working will take some time. But I'm very optimistic about the positive impact this will have in how we serve and invent on behalf of customers." 
We'll see if Amazon's recently paired down workforce agrees.