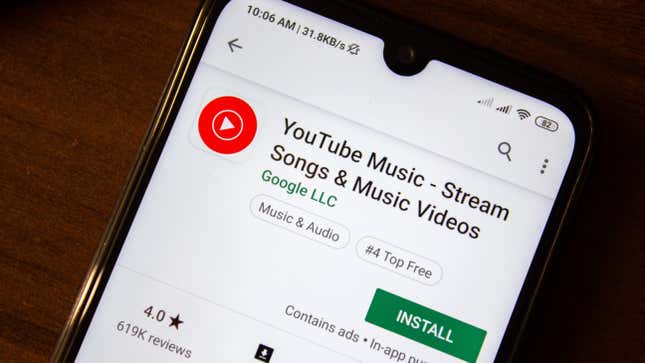 Working from home was one of the perks of the covid-19 stay-at-home orders, and most of the corporate world was able to prove that their jobs could be done fully or mostly remote. But big tech's push to return to work is not coming without resistance, as Axios is reporting this morning that contractors at YouTube are prepared to strike over being forced to return to the office.

Google's Antitrust Case Is the Best Thing That Ever Happened to AI
The 43 contractors work in Texas for YouTube Music and are preparing to go on strike this afternoon over being forced to return to the company's office in Austin this Monday, despite some of these contractors being completely remote previously. The contractors are employed by Cognizant, and Axios reports that a return-to-work notification was sent to them in November—after they had filed for union recognition. Cognizant pushed back on this claim in an email with Gizmodo, claiming that the contractors were told as early as December 2021 they would be returning to the office. Cognizant also told Gizmodo that these positions were always intended to be in-office, per the contract these employees signed.
"Cognizant respects the right of our associates to disagree with our policies, and to protest them lawfully. However, it is disappointing that some of our associates have chosen to strike over a return to office policy that has been communicated to them repeatedly since December 2021," Cognizant wrote to Gizmodo. "Associates working on this project accepted their employment with the understanding that they were accepting in-office positions, and that the team would work together at a physical location based in Austin."
"Our hope is we can actually have a dialogue where we are listened to," said Cognizant/YouTube employee Neil Gossell, as quoted in Axios.
YouTube had no comment on the strike.
One of the main sticking points for the Cognizant contractors is pay. The contractors say their pay begins at $19 per hour, and claim that this isn't enough income to sustain a life in Austin, where their office is. About 25% of the contractors currently live in Austin but some say they work more than one job to make ends meet. Axios says that the majority of these contractors were hired during the pandemic and have always been remote workers.
At the same time, office occupancy has hit a post-pandemic high of 50.4% according to Axios, who cites a report from Kastle Systems. While the return to office trend has steadily increased since July 2021, the number appears to have plateaued since September, hinting at a new (old) reality for the corporate world. Tech giants like Tesla, Apple, and Google have been forcing their employees to return to the office post-pandemic for at least a year now, but some employees are continuing to pushback.
Update February 3 2:40 p.m. EST: This article was updated to include comment from Cognizant, who also said that the claims cited from Axios were false. YouTube did not have any comment to share with Gizmodo.