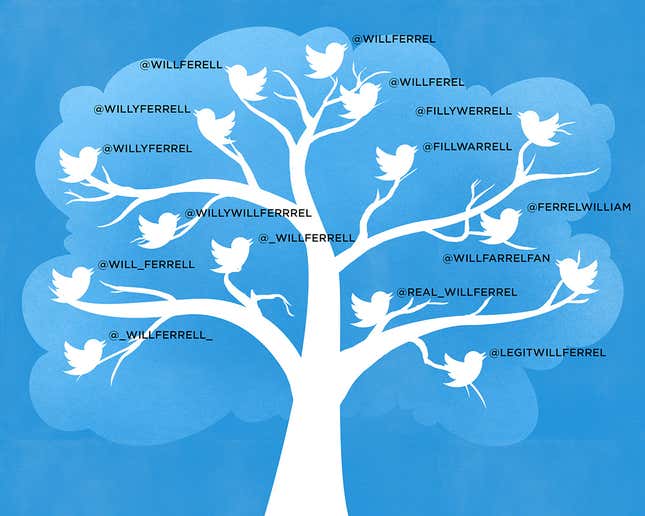 Twitter is a mess, but parody account Twitter is a social networking hellscape unto itself. Between the Black Stewie Griffins and Pharrell's hats is a black hole as old as time, pulling all of #teamfollowback into its gaping maw. I'm talking, of course, about the Will Ferrell accounts.
Meet Microsoft's New Surface Laptops
Of all the parody twitter account flavors out there—and there are M A N Y—Will Ferrell is probably the most numerous and definitely the most pervasive. Do a quick search; I bet you know someone following one of these damned things if you don't follow one yourself. Some of these accounts proclaim to be real, others are more honest about their name-hijacking, but all of them are fucking terrible, and none of them have anything to do with Will Ferrell because Will Ferrell, of course, is not on Twitter all.
But in this chaos, a structure exists. One cannot classify Will Ferrell accounts by content, for they are all terrible. Not by display name or avatar for they all share similar, shoddy camouflage. But Twitter handles—the proper @YourNameHere—are different. These are limited real-estate. There can only be one @WillFerrell, one @Will_Ferrell, and so on. These user names form the battleground on which hundreds if not thousands of Will Ferrell accounts vie for purchase, where every parodist must find a foothold, or die.
Misspellings
The ur-handle, the properly spelled @WillFerrell, is a tweetless egg-avatared account with 12.2K followers and no signs of life.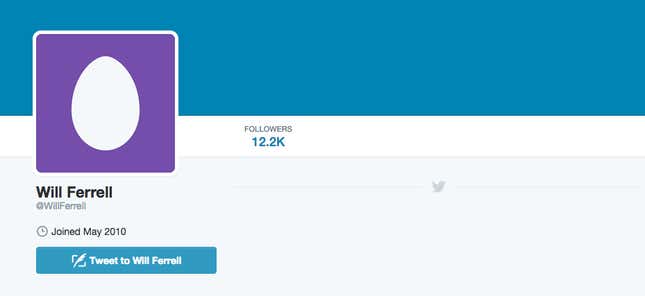 But fortunately the name Will Ferrell—with its 'rr' and its 'll' plus a leading 'e' that could very well be an 'a'—is easily misspelled. (I had to look it up before I wrote this post, tbh). Accounts that exploit this fact, almost always in concert with a proper "Will Ferrell" display name, form the largest contingent of bogus accounts. And no wonder; it's like walking into followers.
See @willferell; 10,000 followers with just a single (masterful) tweet.
Meanwhile, @willferrel; nearly 1.5k without so much as a peep.
And it gets worse. Thanks to Twitter's sans-sarif font, a lowercase l looks like a capital I. @WiIIFerrelI (aka @wiiiferreli) uses this trick to the tune of ~430k followers. The alarmingly similar @WillFerreI (aka @willferrei) to the tune of ~421k.
Also
As well as dozens more. Enough permutations to make your head spin at the mere thought and I assure you they all exist for they are legion.
Nicknames
William's a fairly versatile name, and you'll find all variations of it in the army of accounts, with and without the aforementioned spelling trickery.
There's "Willy"s:
And "William"s:
And, my personal favorite, "Willy Will":
The variations seem to end there, with few to no "Bill"s "Billy"s or "Liam"s, effectively proving that a Will Ferrell parody account maker's only limitation is creativity.
Name flippers
Take any of these previously discussed names, and just swap the first letters around. Funny, right? Apparently; that's the trick behind the leading Will Ferrell account, @FillWerrell, with its 2.5 million followers.
Behind it follow dozens, if not hundreds of less successful imitators
And when that well runs dry, simply flip the names entirely, like entries in a telephone book from hell.
Or just give up all together, like @FillFerrell here:
Underscores
This is the last tool on hand for the purist, he who would not pollute the handle with any additional words or—god forbid—numbers. That this is a well-used tool of the parodist is no surprise. What is a surprise is how far they go with it.
In the middle:
Or leading:
Or trailing:
Or leading and trailing:
In every conceivable space, flanking the name like little demon wings:
I both shudder and thrill at the thought of legal Twitter handles that incorporate asterisks or tildes:
Be still my masochistic heart.
The numberers
These, my friends, are the lowest of the low. Unremarkable but necessary to mention. Let us be brief.
And so on and so forth.
Adjectives
Once we get adjectives into the mix, the river of Will Ferrell handles floods out into an inconceivable ocean so rapidly that its boundaries are difficult to fathom. Only by clinging to the most popular trends can one keep one's head above the raging surf.
There are, of course, those that proclaim their authenticity, the "Real" Will Ferrells:
And those that disclose their falsehood, pretending to the lie that perhaps Law exists on Twitter:
And those that do both at once:
Which is to say nothing of the accounts that actively and self-consciously point to the fact that, yes, they are funny:
Or crazy:
Or just LOL:
The alternate personas
When straight-up mimicking Will Ferrell fails, there are other angles to take than mere impersonation. Endeavoring parodists—who are also, coincidentally some of the worst—find an angle. A take. Will Ferrell becomes the adjective, elevating ordinary shit to shit with a name you can recognize.
Consider the regal King Will Ferrell, with the utterly nonsensical handle @The_Ifunny_King but appropriate avatar that really ties the whole mess together:
There's also:
But most importantly, there is my favorite Will Ferrell Twitter, @Pimpwillly, which does not actually tweet about prostitution or pimping and is wholly unremarkable but for the following poetic and simple bio:

All the other garbage everything is garbage
The rest? It's garbage. I mean it's all garbage but this is the most garbagey garbage. Unused accounts. Nonsensical handles. Jumbled trash tweets full of garbage words. How did I get here? What is going on? Please send help.
And this? This is the future. As the endless drone of time screams on and babbling twitterati spit in the face of the internet's most sage advice, the red-shifting twitterverse will slam up against the boundaries of a limited handlescape. These jumbles of chaos will be all that's left, all that is.
I am registering @fuknyw1lllllf3reIIl for my great grand-children. What else am I supposed to do?
---
Methodology and Appendix:
My first method for compiling a list of Will Ferrell accounts was to just search "Will Ferrell" with Twitter search and copy and paste entries selectively, based on whether accounts appeared to be actively impersonating Mr. Ferrell, or just some tween who though it might make for a funny display name.
It was only after some 200 or so entries that I began to see the folly of my hubris, thanks in part to the existence of accounts with a misspelled display name, or a handle the did not reference Mr. Ferrell at all, or both. To check myself (before I wrecked myself) I had Ashley find accounts by her own means and then checked them against my list; Roughly one in four she found was missing.
Then, I found this wonderful and sketchy website that offers a more robust Twitter search, and devised the following (batshit insane) search query to return as many Will Ferrell-related accounts as possible, within reason:
"will ferrell"|"will ferrel"|"will ferell"|"will ferel"|"will farrell"|"will farrel"|"will farell"|"will farel"|"fill werrell"|"fill werrel"|"fill werell"|"fill werel"|"fill warrell"|"fill warrel"|"fill warell"|"fill warel"
Here is what that returns.
From there, I gave the bastards my credit card (oh I should go cancel that free trial) for the privilege of downloading the ~500 results in the form of a .CSV file. From there I arduously (and sloppily) removed entries that appeared to be "just some guy" based on bio and avatar.
The whole shebang was only 500 long and I'm not sure if that's a limit of the search engine or not. Either way, the bottom of the list starts pulling in zero-follower accounts so that's where the wasteland begins anyway. Unfortunately, I know this list to be non-exhaustive, due to the fact that a parody account Ashley started the other day (@WillFerrell_LOL Excuse me, @LOL_WillFerrell) is not included. But fuck it; I mean what do you want from me?
The following is that list, ranked in order of number of followers. Look upon my works, ye mighty, and despair.
| | | |
| --- | --- | --- |
| FillWerrell | Fill Werrell | 2,495,655 |
| itsWillyFerrell | Not Will Ferrell | 1,763,404 |
| WiIIFerrelI | Will Ferrell | 435,052 |
| WillyFerrell | Will Ferrell | 428,354 |
| LegitWillFerrel | Will Ferrell | 428,077 |
| WillFerreI | Will Ferrell | 418,388 |
| WillFerrall | Will Ferrell | 300,383 |
| Will_FerreII | Will Ferrell | 277,264 |
| FillWerreI | Will Ferrell Parody | 140,478 |
| Will___Ferrell | Will Ferrell | 129,772 |
| FerrellWilly_ | Not Will Ferrell | 52,882 |
| ReaIWilIFerreII | Will Ferrell | 49,976 |
| imnoWillFerrell | Will Ferrell | 48,920 |
| itswillferrel_ | Will Ferrell Parody | 44,181 |
| WilllFerrell | Will Ferrell | 38,787 |
| FillWarrell | Will Ferrell | 37,448 |
| Ferrellsnotes | Will Ferrell | 33,264 |
| Willy_Ferrell_ | Will Ferrell Humor | 29,152 |
| FiIlWerrelI | Fill Werrell | 25,052 |
| ItsWillyFerrel | Not Will Ferrell | 23,862 |
| willferrel1 | Will Ferrell | 22,684 |
| FillFerrell | Will Ferrell | 22,402 |
| willferrell67 | Will Ferrell | 22,294 |
| OfficialWilllF | Will Ferrell | 22,173 |
| WillFerelll | Will Ferrell | 19,977 |
| ItsFillWerrell | Fill Werrell | 14,872 |
| itsFerrellWilly | Fill Werrell | 14,532 |
| WillFerrell | Will Ferrell | 12,218 |
| WillFerrellMind | Will Ferrell | 11,114 |
| FillWerrelI | Fill Werrell | 11,477 |
| iWiIIyFerreII | Will Ferrell | 10,882 |
| trillfarrell | Will Farrell | 10,507 |
| willferell | Will Ferrell | 10,142 |
| NotFillWerrall | Will Ferrell | 7,891 |
| the_WillFerrell | Will Ferrell | 7,060 |
| FarellWill | will farell | 6,830 |
| FillWerell | Fill Werrell Parody | 6,747 |
| _WillFerral | Will Ferrel Parody | 5,594 |
| WillyFerrell_ | Will Ferrell | 5,436 |
| TheWillFerrell | Will Ferrell | 5,197 |
| FilWerell | Fill Werell | 5,067 |
| WillFarrelFan | Will Farrell Parody | 5,048 |
| NotWillFerrell | Will Ferrell | 4,569 |
| FilllWerrell | Fill Werrell | 3,245 |
| NotWillFarrell | not will ferrell | 3,068 |
| WeWillFerrell | Will Ferrell Parody | 2,739 |
| ItsWillyFerell | Will Ferrell | 2,455 |
| WillFerrellFake | Will Ferrell | 2,337 |
| fillwerrel_ | fill werrel parody 1 | 2,136 |
| FerrellWill | Will Ferrell | 2,105 |
| WillTheElf | Will Ferrell | 2,036 |
| lWillFerrell | Will Ferrell | 1,947 |
| ferrelwill31 | Will ferrell | 1,660 |
| WillFerelParody | will ferrel | 1,560 |
| TheWillFarrell | Will Farrell | 1,444 |
| Pimpwillly | Will Ferrell | 1,354 |
| WillFerrellQ | Will Ferrell Quotes | 1,348 |
| willthetank | Will Ferrell | 1,182 |
| WiII___Ferrell | Will Ferrell's Twin | 1,024 |
| ItsWillFerrell | Will Ferrell | 1,014 |
| JohnWFerrell | Will Ferrell | 930 |
| Real_WillFerrel | Will Ferrel | 908 |
| WillFerrell194 | Will Ferrell | 857 |
| itsWillyFerrll | Not Will Ferrell | 811 |
| FunnyFerrellLOL | Will Ferrell Parody | 800 |
| WillFerreII_ | Will Ferrell | 795 |
| mclovin_bishes | will ferrell parody | 742 |
| itsWillFerreIl | Will Ferrell | 690 |
| TheBigBlow | Will Ferrell | 681 |
| ChichiWill | Not Will Ferrell | 656 |
| BillWerrel | Will Ferrel | 595 |
| Notwillyferrell | Will Ferrell | 582 |
| taterxtwat | will ferrell's wife | 564 |
| williamferrell | Will Ferrell | 558 |
| willqeoy | Not Will Ferrell | 551 |
| Willlferrel | Fill Werrell | 542 |
| WillFerrell7 | Will Ferrell | 531 |
| ladiesman5235 | Will Ferrell | 517 |
| filly_will | Will Ferrell | 508 |
| wferrell23 | Will Ferrell | 491 |
| FillyWerrell | NOT will ferrell | 472 |
| WillFarrell1996 | Will Farrell | 471 |
| RobJr3 | Will☆Ferrell™ | 462 |
| WillMyFerrell | Will Ferrell Quotes | 451 |
| Will_Ferrel | Will Ferrel | 447 |
| willferrell11 | will ferrell | 445 |
| WillFerrellSNL | Will Ferrell | 422 |
| notWill_Ferrell | not Will Ferrell | 410 |
| NotWillFerrel_ | Will Ferrell | 400 |
| Wfarrell21 | Will Farrell | 397 |
| will_ferral | Will Ferrell | 376 |
| WilliamFerrel | Will Ferrel | 352 |
| FerrellThoughts | Will Ferrell | 350 |
| The_Ifunny_King | King Will Ferrell | 348 |
| iWilliamFerrell | Will Ferrel | 340 |
| Will_Ferrrell | Will Ferrell Parody | 331 |
| uwillgcqu | Will Ferrell | 331 |
| FillWerreIl | Fill Werrell | 325 |
| WillWearAll | Will Ferrell Parodys | 308 |
| fillwerrell420 | will ferrell | 289 |
| Will_Not_Ferell | Not Will Ferrell | 276 |
| WillFerreIII | Will Ferrell | 275 |
| WilliFerrell | WILL FERRELL PARODY | 274 |
| aDailyLoL | Will Ferrell | 273 |
| Fill_Werrell_ | Will Ferrel Parody | 267 |
| WillFParody | Will Ferrell | 266 |
| doctor_whoaa | Will Ferrell | 260 |
| werrel_fill | Fill Werrel parody | 251 |
| thebestofwill | best of will ferrell | 251 |
| WillyFerrrell | Will Ferrell | 241 |
| willy_ferrell | Will Ferrell | 233 |
| _Fillwerrell_ | Will Ferrell™ | 226 |
| TheNameWasWill | Fill Warrell | 221 |
| 1WillFerrel | Will Ferrell Parody | 219 |
| wi11_ferre11 | Actual Will Ferrell | 217 |
| FakeWillFerrell | Will Ferrell | 205 |
| itsFerrellWill | Will Ferrell | 204 |
| notwillferrel1 | will ferrell | 203 |
| NotTheRealWilly | Will Ferrell | 195 |
| bigwillyferrell | Will Ferrell Parody | 194 |
| illWilllll | Will Ferrel | 190 |
| Not_WillFerrel1 | Will Ferrel | 189 |
| willisfarrell | will farrell | 180 |
| W_Ferrellquotes | Will Ferrell | 178 |
| Fill__Werrelll | Will Ferrell | 176 |
| _PRAISE_FERREL_ | ✨We ❤️ WILL FERREL✨ | 174 |
| WiIlFerrell | Will Ferrell | 173 |
| WillFarrell96 | Will Farrell | 166 |
| wil_ferrel | Will Ferrel | 163 |
| iWillyFerrells | Will Ferrell | 162 |
| WillWilligb | Will Ferrel Parody | 160 |
| WillFer70558815 | Will Ferrell | 156 |
| Its_WillFerrel | Will Ferrel | 155 |
| williamfarrell | Will Farrell | 145 |
| WilliamHFarrell | Will Farrell | 135 |
| RealWilllFerrel | Will Ferrell Parody | 131 |
| FillerWerrel | Will Ferrel Parody | 121 |
| ItzBrennanDale | Will Ferrell | 120 |
| will_farrelswag | will farrel parody | 118 |
| willieboy2000 | will farrell | 117 |
| Bret_Dodson | Fill Werrell | 115 |
| ItzWillFerrel | Not Will Ferrel | 115 |
| Ferrell_William | Will Ferrell | 113 |
| WillFerell1675 | Will Ferell | 112 |
| ferrellwill123 | Will ferrell parody | 112 |
| Werrell_Fill | Will Ferrell Parody | 110 |
| WeirdFerrell | Fill Werrell | 109 |
| SoWillFerrell | So Will Ferrell | 108 |
| LeeArmstrong21 | Will Ferrell | 104 |
| Will_Ferrl | Will Ferrell | 100 |
| cuteattacks | Will Ferrell | 98 |
| rwillel | Will Ferrell Parody | 94 |
| The_StepBrother | Will Ferrel | 93 |
| Diabetic_Legend | Will Ferrell | 92 |
| its_not_will | Will Ferrell | 83 |
| WerrelFill | Fill Werrel | 82 |
| filly_werrel | will ferrel | 82 |
| Comedy_Will | Will Ferrell | 82 |
| TheWillFerrell_ | will ferrell | 78 |
| Ferrell7720 | Will Ferrell | 76 |
| WillyFerrelll | Will Farrell! | 71 |
| NotWillyWill | Will Ferrell | 71 |
| ItsWiIIferrelI | Not Will Ferrell | 71 |
| willferrelled | Will Ferrell | 70 |
| WillSNLFerrell | Will Ferrell | 68 |
| WillFerrellQts | Will Ferrell Quotes | 67 |
| Chaoswill | Will Farrell | 64 |
| realWillFerral | Will Ferrell | 64 |
| Its_FillWerrell | Will Ferrell Parody | 64 |
| willferrellines | Will Ferrell Lines | 60 |
| Will_Ferrelll | Will Ferrell | 55 |
| ReaIWill | Will ferrell | 54 |
| WillEFarrell | Will Farrell | 52 |
| WillFerrell98 | Will Ferrell | 52 |
| WillFerrell_fr | Frenchy Will Ferrell | 52 |
| ItswillyWill | Will Ferrel | 51 |
| WillFaz | Will Farrell | 50 |
| willdathrillOB | Will Farrell | 49 |
| RealFerrellWill | Will Ferrel™ | 48 |
| willyferrell4 | Will Ferrell Quotes | 48 |
| WillFerrelQuote | Will Ferrell | 43 |
| WillsParody | Will Ferrell | 43 |
| WillFerrellPics | Will Ferrell Funnies | 43 |
| WillFerrell0 | Will ferrell | 43 |
| WarelFill | Will Farrell | 40 |
| ferrelmeme | Will Ferrel | 40 |
| Itswillferrell_ | Not Will ferrell | 40 |
| bucketofbacon99 | Will Ferrel Parody | 39 |
| WillFerrellQs | Will Ferrell Quotes | 39 |
| ParodyFerrell | Will Ferrell Parody | 38 |
| TheCofffeman | Not Will Ferrell | 38 |
| will_ferrell16 | Will Ferrell | 38 |
| WillFerrell001 | Will Ferrell | 36 |
| ferrelwill69 | Will Ferrell | 36 |
| FillParody | Fill Werrel Parody | 35 |
| I_AmWillFerrell | Will Ferrell | 35 |
| Will_Ferrell777 | Will Ferrell | 34 |
| omgWillFerrell | Will Ferrell | 34 |
| f5isthestig | Will Farrell | 34 |
| WillFarell1 | Will Farell | 33 |
| Will_N_Farrell | Will Farrell | 33 |
| K00lFACTS | Will Ferell | 32 |
| WillFerrellPost | Will Ferrell | 32 |
| Ferrel_William | Will Ferrell Parody | 32 |
| BASEDFERRELL | BASED WILL FERRELL | 31 |
| ghandiafro | Josh will Ferrel | 30 |
| willferrell9 | will ferrell | 30 |
| WillUFerrellMe | Will Ferrell | 30 |
| FlappyAnchorman | Flying Will Ferrell | 30 |
| madison_0416 | not will ferrell.... | 30 |
| WillFerrell_xD | Will Ferrell wannabe | 29 |
| AintWillFerrell | Aint Will Ferrell | 28 |
| Kash_Matt | Fill Werrell | 28 |
| fillwerrel1 | will ferrel | 27 |
| WillFerrellLike | Will Ferrel Parody | 27 |
| Wi1lFerrell | Will Ferrell | 27 |
| WillFerrellParo | Will Ferrell | 26 |
| Not_FillWarell | Will Farrell | 26 |
| WillFerrellHulk | Will Ferrell Hulk | 25 |
| WillFerrel9876 | Will Ferrel | 25 |
| WiLlFaRLE | will ferrel | 25 |
| Willferrellll | Will Ferrell | 24 |
| Will____Ferrel | Will Ferrel | 24 |
| WillFerrellStuf | Will Ferrell | 24 |
| WillFerrell1967 | Will Ferrell | 23 |
| WillFerrell343 | Will Ferrell | 23 |
| RealWillFerrel | Will Ferrell | 23 |
| WillllFerrell | Will Ferrell | 22 |
| WillyFerrll | Will Ferell | 22 |
| WillFerrel__ | Will Ferrell | 22 |
| WillFarrel182 | Will Farrell | 22 |
| bigtimerush132 | Will Ferrell Parody | 21 |
| ferrelltheking | Fill Werrell | 21 |
| just4laughs11 | Will Ferrell Parody | 21 |
| willy_ferrel_ | Will Ferrell | 21 |
| 98Fill | Fill werrell | 21 |
| WillFerrellIV | Will Ferrell IV | 21 |
| WilliamFerell | Will Ferrell | 21 |
| _Will_Ferrell_ | Will Ferrell | 20 |
| WillFerrell93 | Will Ferrell | 20 |
| 2FUNNY_TWEETS | will ferrell | 20 |
| WillFerrelBase | Will Ferrell | 19 |
| Willferrelfake | Will Ferrell Parody | 19 |
| Willfunnyguy | Will Ferrell | 19 |
| ItsWillFerreII | Will Ferrell | 19 |
| SoNotFerrell | Not Fill Werrell | 19 |
| FillWerrel01 | Will Ferrel | 18 |
| willyferrell01 | Will Ferrell | 18 |
| will_1_ferrell_ | will ferrell | 18 |
| Willy_Ferrel | Will Ferrel | 17 |
| CannonCartier | Will Ferrel Parody | 17 |
| will_snl | Will Ferrell SNL | 17 |
| Wil_Ferell | Will Ferrell | 17 |
| anchorman54 | will ferrel | 17 |
| andrewkhatliuo | Fill Werrell | 17 |
| WillFerrelsMom | Will Ferrels Mom | 16 |
| Sexywillferrell | Will Ferrell Parody | 16 |
| WillFerrellArmy | Will Ferrell | 16 |
| WillvFerrell | Will Ferrell | 16 |
| WillyFerralll | Will Ferrell | 16 |
| wferrellparody | Will Ferrell | 15 |
| WillFerrel7 | Will Ferrel | 15 |
| FillWerrel68 | Fill Werrel | 15 |
| itsWiIlyFerrell | Not Will Ferrell | 15 |
| Willis16 | Will Farrell | 14 |
| WillyFerrelJoke | will ferrel | 14 |
| WillyBigShot | Will Ferrell | 14 |
| WillFerrel9 | Will Ferrell | 14 |
| willfarelparody | will Farrell parody | 14 |
| ferel_wil | Will Ferrell | 14 |
| WiIIFerreII | will ferrell | 13 |
| WillFerrellWF | Will Ferrell | 13 |
| WillFarrell8 | Will Farrell | 13 |
| itsWillyFerrelI | Not Will Ferrell | 13 |
| Hi_its_Liammm | WILL FERRELL | 12 |
| FillWerrel69 | Almost Will Ferrel | 12 |
| will_ferrell_jk | Will Ferrell | 12 |
| willFerell4 | will Ferell | 12 |
| Willferrrellll | Will ferrell | 12 |
| MarcoCoiro | Fill Werrell | 12 |
| PhilWerrel2 | Fill Werrel (LSC) | 12 |
| ThaWillFerrell | Will Ferrell | 11 |
| willferrell13 | will ferrell | 11 |
| 1_ferrell_Will | Will ferrell | 11 |
| lankyclan | will ferell | 11 |
| iFunny_King_ | Fill Werrel | 11 |
| ifunny_________ | fill werrel | 11 |
| LordcalvertZach | nots will ferrel | 10 |
| _ferrel_will | Will Ferrel | 10 |
| ItzWillFerrelll | Will Ferrell | 10 |
| notwillferrel4 | Will Ferrell | 10 |
| WillFerrell01 | Will Ferrell | 9 |
| loveandwar616 | Will Ferrell | 9 |
| TheWill_Ferrell | Will Ferrell | 9 |
| FillWerrel3 | Fill Werrel | 9 |
| McFerrell_ | Will Ferrell | 9 |
| Planes107Irwin | Will Ferrell | 9 |
| WillFerrell66 | will ferrell | 9 |
| BBQgoldfish | Not Will Ferrell | 9 |
| mcwillyfryman | Almost will ferrell | 9 |
| GoodNameEH | Will Ferrell | 9 |
| WiIIFerrell | Will Ferrell | 8 |
| Farrellracing | Will Farrell | 8 |
| NotWillFerrell0 | Not Will Ferrell | 8 |
| WillFerrellNOT | Will Ferrell | 8 |
| tzvikim1994 | Follow @ Fill werrel | 8 |
| itsWiIIyFerreII | Will Ferrell | 8 |
| ImWillyFerrel | Will Ferrell | 8 |
| WiIIWerreII | Will Ferrell | 8 |
| WILL_THE_FERREL | will ferrell parody | 8 |
| Itswillferrelya | Will ferrel | 8 |
| worldofpanda | Will Ferrèll | 7 |
| follow_ferrel | follow will ferrel | 7 |
| FerrellForReal | Will Ferrell | 7 |
| Will_Farrell_ | Will Farrell | 7 |
| RoshInfy | Anti Will Ferrell | 7 |
| WillFerrelKing | Will Ferrell | 7 |
| 2Ferrel | will ferrel 2 | 7 |
| WerrellsQuotes | Fill Werrell | 7 |
| ItsWillFerrell5 | Its Not Will Ferrell | 7 |
| listentowill | Almost Will Ferrell | 7 |
| willferrellluvu | Will Ferrell | 7 |
| WillFerrelParo3 | Will Ferrel Parody | 7 |
| itewillferrell | Will Ferrell | 7 |
| TRealWillFerrel | Will Ferrel | 7 |
| FarraWill | Will Ferrell | 7 |
| illwill0420 | will ferrell | 6 |
| WillFerrellRon | Will Ferrell | 6 |
| yoshiZzZzZz | Maybe Will Ferrell | 6 |
| WiII_Ferrell | Will Ferrell | 6 |
| ParodyWerrel | Fill Werrel Parody | 6 |
| LOLWillFerrell | Will Ferrell | 6 |
| WillFer123 | Will Ferrell | 6 |
| Connorstuart12 | Will ferrel | 6 |
| JohnWillFerrel | Will Ferrell | 6 |
| realywillFerrel | Will Ferrel | 6 |
| itwillferall | not will ferrell | 6 |
| willmrferrell | will ferrell | 6 |
| WillFerralSpoof | Will Ferrell | 6 |
| Will_T_Farrell | Will Farrell | 5 |
| ferrelltweets | will ferrell tweets | 5 |
| FiIIWerrelI | Will Ferrell Parody | 5 |
| _Will_Ferrel_ | Will Ferrel | 5 |
| FerrellNotWill | Not Will Ferrell Its | 5 |
| fakeferrell | Will Ferrell Parody | 5 |
| sexierthanwill | Will Ferrell (not) | 5 |
| young_ferrell | Young Will Ferell | 5 |
| ferrellywill | Will Ferrell | 5 |
| Will_Ferrel__ | Will Ferrell | 5 |
| Ferrel_Quotes | Will Ferrell Quotes | 5 |
| WillFerrellthe1 | Will Ferrel Parody | 5 |
| Ferrellwillllly | Will Ferrell | 5 |
| Willis_Ferrel | Will Ferrel | 5 |
| will_ferrel123 | will farrel | 5 |
| Detective_Allen | Will Ferrell | 5 |
| WillyMerrel | Will Ferrel | 5 |
| HenrickSedin | Fill Werrel | 4 |
| WillFerrell130 | Will Ferrell | 4 |
| bill_ferrel | Will Ferrel | 4 |
| WillFerrelColne | Will Ferrel | 4 |
| almostwilferrel | Will Ferrel | 4 |
| logan99187781 | Will ferrel 2.0 | 4 |
| Willferrel_fan | Will Ferrel Fan | 4 |
| willghsidu_will | will ferrel parody | 4 |
| will_ferrell_01 | Will Ferrell | 4 |
| SandlerParod | Will Ferrell | 4 |
| imwillfarrell | will ferrell | 4 |
| FWerald | Fill Werell | 4 |
| wizz_billy | Will Farrell | 3 |
| WillFarrell4 | Will Farrell | 3 |
| fJstejwuq | Will Ferrell | 3 |
| willfer57951456 | will ferrell | 3 |
| Zdard321Will | will ferrel | 3 |
| DonkeyFerrel | will ferrel | 3 |
| WillFarrell7 | Will Farrell | 3 |
| _willy_ferrell | Will Ferrell | 3 |
| WillTotally | totally will ferrell | 3 |
| will_ferrll | will ferell | 3 |
| LegitimateWill | Will Ferrel | 3 |
| fillwerrellp | Fill Werrell | 3 |
| Willl_Ferrell | Will Ferrell | 3 |
| iwasboredsooooo | Fill Werrel | 3 |
| fererel | Will Ferrel | 3 |
| WillFerrell_56 | Will Ferrell | 3 |
| Im_will_farrel | Will farrel | 3 |
| WeWillFerrell_ | Will Ferrell Parody | 3 |
| Will_Ferrell22 | Will Ferrell | 3 |
| WillFerrel508 | Will Ferrel | 3 |
| IMWILLFERELLLLL | Will Ferrell | 3 |
| ILiveWillFerrel | Will Ferrel | 2 |
| jack_links_beef | Will Ferrel | 2 |
| willferrellfan2 | will ferrell fans | 2 |
| Wills_Ferrell | Will Ferrell | 2 |
| xdt61y27j1 | Will Farrell | 2 |
| jocey04 | Will ferrel | 2 |
| jcestrada75 | will ferrel | 2 |
| WillWferrell | Will Ferrell | 2 |
| WiIlFarrell | Will Farrell | 2 |
| Jim_cary_funny | Will ferrel comedy | 2 |
| mmansour347 | will ferrell | 2 |
| Naturegirl1S | Will Ferrel | 2 |
| seniorfancy | will ferrel | 2 |
| not_fwerrel | Not fill werrel | 2 |
| Farrel_Sangian | Will Farrel S | 2 |
| WillFerrelParty | Will Ferrel | 2 |
| itbewillyferrel | not will ferrell | 2 |
| NotWillFerrell5 | Will Ferrell | 2 |
| WillFer07949337 | Will Ferrell | 2 |
| BigbirdFerrell | Will Ferrell | 2 |
| WillFarrell3 | Will Farrell | 1 |
| nbdnova | i Will Ferrell | 1 |
| FillGuy | Fill Werrel | 1 |
| isitwillyferrel | Will Ferrel | 1 |
| FarrelWilly | Will Ferrel | 1 |
| JTownBeast | Fill Werrel | 1 |
| xgrimreapers | Will Farrel | 1 |
| LoL_TweetZz | Will Ferrell Comedy | 1 |
| ryanwarrski | Fill Werrel | 1 |
| gamegod86 | will ferrell | 1 |
| ParisceF | Will ferrel | 1 |
| WillKSF | Will Farrell | 1 |
| artlv2 | Will Ferrell | 1 |
| fill_werrell___ | Will Ferrell | 1 |
| Dhdiogekkvkf | Will Ferrel | 1 |
| littlesmoke274 | Fill Warrel | 1 |
| ThatWillFerrel | Will ferrel | 1 |
| calepenn | fill werrell | 1 |
| fwillarrel | fill warrel | 1 |
| Williamferrel1 | Will Ferrell | 1 |
| ferrel_1234 | not will ferrel 1234 | 1 |
| Master_Ferrel | Will Ferrell | 1 |
| WillFer89067072 | Will Ferrel | 1 |
| ImTotallyWill | Will Ferrel | 1 |
| ozzythewinrar | Will Ferrel | 1 |
| wferrell4 | Will Ferrell | 1 |
| willferrelpar | Will Ferrel | 1 |
| Mcd001Nick | Will Ferrell | 1 |
| motherofferrel | will ferrel's mother | 1 |
| gillianerom | Fill Werrell | 1 |
| whyyoudothisoma | Not Will Ferrel | 1 |
| willlfarrell | will farrell | 0 |
| tacticalman95 | Will Ferrel | 0 |
| WillFer72355297 | Will Ferrell | 0 |
| ifunnys_leader | Will Ferrel | 0 |
| WillFarrell10 | Will Farrell | 0 |
| jswagggggggg | Will ferrell | 0 |
| WILLFARELJR | WILL FAREL JR | 0 |
| WillFarrell123 | Will Farrell | 0 |
| next_will | next will ferrel | 0 |
| i_ferrell | I LIKE WILL FERRELL | 0 |
| willferrell2013 | Will Ferrell | 0 |
| WillFerrellKid | Will Ferrell | 0 |
| ferrell_gma | Will Ferrell | 0 |
| yossim123 | Follow @ will ferrel | 0 |
| GeorgeWilFerrel | George Will Ferrel | 0 |
Art by Tara Jacoby