On the afternoon of March 11, 1958, Ella Hudson was nine years old and visiting her cousins' home in Mars Bluff, South Carolina. After an otherwise normal school day wrapped up, Ella had the bizarre pleasure of witnessing firsthand the United States Air Force accidentally drop a nuclear weapon — with its fissile material fortunately removed — on the woods near her cousins' house. Hudson spoke with io9 about that fateful day and how she thought the Cold War had heated up an hour outside of Myrtle Beach.
This happened in March. After school, I had gone to play at my cousin's house, the unfortunate location where this happened. It had been a really wet March. That was the reason everybody lived. When the bomb hit, instead of exploding — which it should have done the minute it hit the ground — it went down into the ground and exploded. We were basically protected from the all of the shrapnel. Nobody was killed, which was a miracle.
I laughed a little bit when I saw the article. We didn't have anything as luxurious as a toy house. We had an area marked out on the ground with bricks that had been used in the foundation of the house. There was a brick pile there. We had it all marked out like a little house, with our dolls and our kitchen gear.
When the thing fell, I remember hearing it, the whistle of the bomb coming down. I thought it was an airplane or a jet flying over. I remember thinking that. Once it hit and exploded, I don't remember leaving that spot and going to the front of the house. I was conscious, because my cousin Walter Gregg, one of the adults there, he saw us start to run and he saw a power line swinging. So, he told me and two other cousins to stop running. We were conscious, but I just don't remember it. It was like a skipped piece of my video memory.
G/O Media may get a commission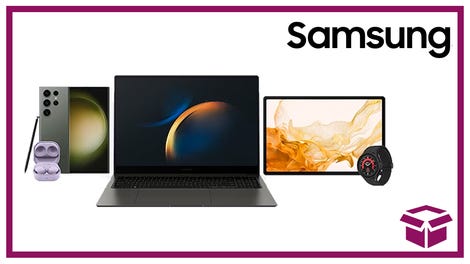 24 hour deals
Discover Samsung - Daily Deal
We were then all in the front of the house. We were running, and some guys had seen the mushroom cloud from the highway and gave us a ride to the hospital. I remember thinking, "We had been bombed by the Soviets, and the Americans were too stupid to let us know!"
So yes, we were being bombed by the Russians! My adult cousin Effie Gregg were sitting by a window sewing, and the entire window blew out. She was cut behind her ear, which was kind of miraculous. My cousin Walter and his son were in the workshop garage. He knew what was happening because he had been in World War II. He knew a bomb had dropped and protected his son from the debris falling around him — a beam fell on his back. I was hit by a brick from the pile. I had a large gash on my head that was bleeding profusely.
The military didn't show up moments after the bomb fell. I remember they used a Geiger counter while I was in the emergency room to check us out for radioactivity. They told my parents a plane had crashed. After I had left the hospital, the general from Shaw Air Force Base, where the plane was held, came over and visited. He had a book and a doll for me. He sat around and talked with the family. It was very low-key. He was there as a concerned person.
In this day and age, it would be very different. At the time, you were not allowed to sue the government. We did go to court. But in the moments following this — I had Welsh grandparents at the time — it all hit the international news big time that we had this Broken Arrow accident. All of the Europeans were scared that this could happen in their air space.
I never met the crew who dropped the bomb. A fellow who wrote a story for Esquire tracked down [the man who accidentally dropped the bomb, Captain Bruce Kulka] a few years ago. The bomb didn't do him psychologically much good, and he dropped out, moved to Thailand, and nobody ever hears from him.
When I think about it, I think about how different it would be today. I ended up having surgery later that was blamed on that incident later. At the time, we were all just glad to be alive and went on with our lives. I did a shoot 22 years later with a documentary crew, and I remember being amazed at how bitter my cousins were, whereas I walked away without any long-term effects except this amusing story. It was just something that happened.
My cousins had three children and a home built on family property. They were on the rise, and their house and possessions were completely destroyed. It set them back. They moved away to the town of Florence. The property has just gone back to trees. I don't really know what happened in terms of the property, but they lost a lot.
Images via Ritz Bros and the Florence County Library.