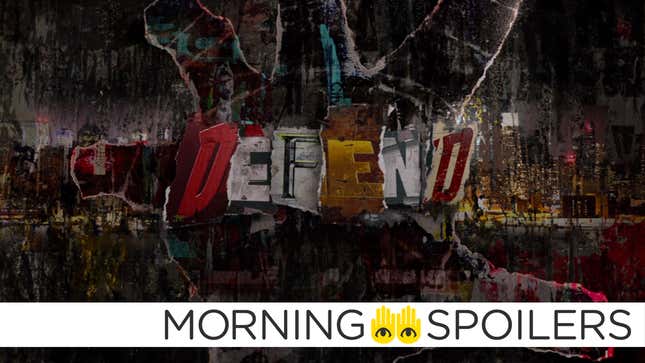 J.J. Abrams says the Portal movie is still happening. Another familiar face is confirmed for Arrow's hundredth episode. Plus, new Doctor Strange footage, and Duncan Jones' Mute is heading to Netflix. Spoilers Now!
Vizio's Latest TVs Go All Quantum

Mute
Duncan Jones' next film, loosely connected to and within the same universe as Moon, has been confirmed as being distributed by Netflix—meaning it'll get a limited theatrical run alongside a debut on the streaming platform. [/Film]
---
Portal
J.J. Abrams recently told IGN that fans can expect to hear soon about the long-in-gestation game adaptation.
We have a meeting coming up next week with Valve. We're very active, I'm hoping that there will be a Portal announcement fairly soon. We are having some really interesting discussions with writers… it's incredible when you talk to someone who just 'gets' it. It's like, oh my god, it's really the seed for this incredible tree you're growing.
---
Namor
Although there's nothing to suggest a Namor film is in the works at the moment, Teenage Mutant Ninja Turtles: Out of the Shadows star Brian Tee would very much like to play the character:
You know what's funny is my career I've kind of played villains, guys with attitude, guys with chips on their shoulders, um, in reading the comics books and being a fan of Namor, that's kind of this guy's persona. Even though he's a hero or a quote unquote good guy. He's kind of a bit of an anti-hero with a bit of an edge, and I feel like I kind of fall in that line, especially with other things that I've done. So that's the kind of aspect that I would love to bring into Namor.

He's not just like a good guy, you know, he's definitely got some faults of his own, but I think when it really boils down to doing the right thing he will, and you know it's Namor, it's Marvel, it's the first Mutant, it's everything you can kind of dreamed of as a kid and wanted to portray, and so I would absolutely love and be honored to play him if the time does come around, and I thank you guys for the movement!
---
Doctor Strange
This new international TV spot has a few slivers of new footage in it:
And here's another trippy new motion poster:
---
The Defenders
Actress Simone Missick has confirmed that Luke Cage's Misty Knight will return for the crossover series:
I believe I'm safe to say that I will be on The Defenders. Spoiler alert! If I lose my job because of this interview, sorry! I was supposed to be on The Defenders, until I got fired.
[The Wrap]
---
MacGyver
TV Line has a clip from the second episode of the series, featuring Angel/Person of Interest star Amy Acker.
---
The Flash
The synopsis for the third episode, "Magenta," has been released.
Barry and Team Flash are thrilled to reunite with Earth-2 Wells and Jesse (guest star Violett Beane). Wells confides to Barry and Caitlin that Jesse has all the powers of a speedster and has been saving people on his Earth. He is concerned about her safety and wants them to talk her out of using her powers. Meanwhile, Magenta, (guest star Joey King) a new meta who can control metal, terrorizes the city.
---
Arrow
Entertainment Weekly reports that Susanna Thompson will reprise her role as Moira Queen—who was killed off in the show's second season—in the upcoming 100th episode. Details of how she and several other previously deceased characters are making their return for the episode are currently being kept under wraps.
Meanwhile, here's a synopsis for "A Matter of Trust":
Now that Oliver has his new team, they are ready to hit the streets but Oliver doesn't feel they are ready. Headstrong Wild Dog (guest star Rick Gonzalez) defies the Green Arrow's orders and sets out on his own after a new drug dealer, Garret Runnels (guest star Cody Rhodes), who is terrorizing Star City. Runnels proves more powerful than Wild Dog and it is up to the Green Arrow to go head to head with Runnels to save his teammate.
---
Fear the Walking Dead
Finally, Ofelia is waylaid by zombies in a new clip from the finale.
Additional reporting by Gordon Jackson. Banner art by Jim Cooke.