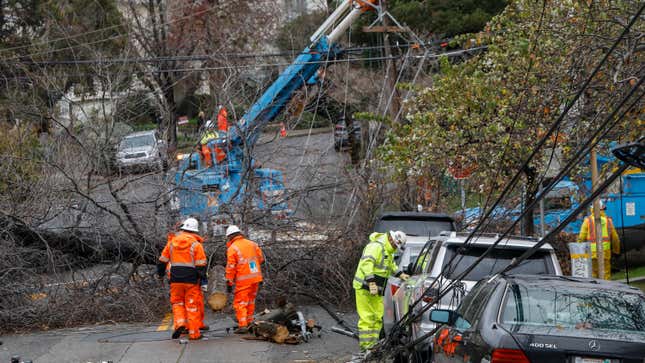 California has been hit by yet another winter storm that has sparked flood warnings and power outages across multiple counties.
Lower Drought Conditions In California | Extreme Earth
The storm rolled in Wednesday, bringing winds up to 85 miles per hour and canceling more than 70 flights at the San Francisco International Airport, the Associated Press reported. According to the San Francisco Department of Emergency Management, the city has experienced some mudslides and even sinkholes from the storm as of Wednesday evening, CNN reported. The strong winds have also downed trees and power lines.
"Some showers may be heavy at times. Allow extra time for the commute. For the rest of today showers and even thunderstorms are still possible," the Bay Area National Weather Service account tweeted earlier today.
As of this writing, more than 169,000 customers out of 13 million are without power in the state, according to PowerOutage.us. The most affected counties are those along the coast in Central and Northern California. To protect residents, the city of Sacramento has opened several weather respite centers and has expanded capacity at existing shelters. According to a press release, these locations will be open until January 7. Some will accommodate adults, while others are open for families and people with pets.
This new storm comes from the third atmospheric river to reach California since late December. The damage from this week's storm has compounded on the destruction from an earlier storm that reached the state last week. The heavy rainfall triggered flooding in several cities last week, including San Francisco, Sacramento, and Oakland, NPR reported. Some parts of California remained under flash flood warnings this Monday. Some areas also saw power outages and even rockslides that shut down highways. That earlier system then moved east, creating a "multi-hazard" storm that sparked high winds, hail, and heavy rain in states across the center of the country.
There is a very small silver lining to the recent storms. The recent storm dumped snow across California's mountains, giving snowpack a much-needed boost. The California Department of Water Resources conducted the first manual snowpack survey for 2023 this week at Phillips Station near Lake Tahoe. They found 55.5 inches of snow depth, making this the highest snowpack recorded in 40 years.
However, 2022's wildfire season has also increased flooding and mudslide risks across the state, the Sacramento Bee reported. Scorched soil does not absorb as much water as healthy soil. There are fewer living plants in badly burned areas to stop soil from being washed away. This means that if the current storm drops a lot of rain like last week's storm did, mudslides are possible.