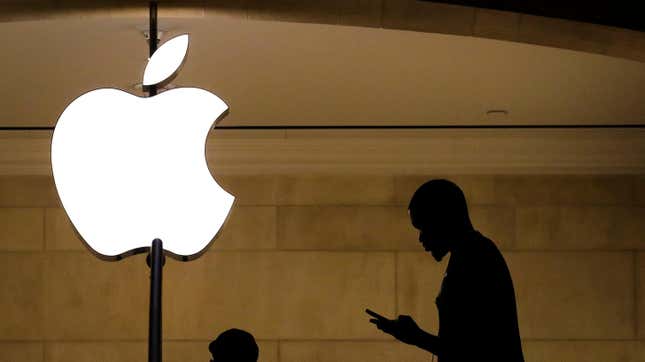 Apple waded into the debate over generative artificial intelligence this week when it blocked a ChatGPT-powered email app over concerns the app would not properly filter content for young audiences. The blocked app update, which the developer claims is unfair, points to the power Apple could wield to set AI moderation standards amid a period of little to no governmental oversight. It also hints at a potential brewing conflict between Apple and Google, the world's two largest app store operators, over the amount of latitude they will grant budding AI apps looking for home on mobile devices.
The iPhone SE Offers Almost Everything You Want In An iPhone
BlueMail, the blocked email app developed by New Jersey-based Blix Inc, uses OpenAI's ChatGPT to generate emails for users based on their previous content and calendar data. Blix developers told The Wall Street Journal they received an email from Apple saying the app had been blocked because it "does not appear to include content filtering at this time." Apple then presented Blix with a choice: beef up its content filtering process or up its minimum age restriction from four to 17 years old.
Blix co-founder Ben Volach told the Journal his company does in fact use content filters and claims Apple's adjusted age restriction request is unfair and would harm his business.
"Apple is making it really hard for us to bring innovation to our users," Volach told the Journal. The Blix co-founder previously filed an antitrust suit against Apple in 2019 following a previous removal of the app from the platform.
Apple told Gizmodo all developers have the ability to challenge app rejections through its App Review Board appeals process and said it's currently investigating Blix' complaint. Apple wouldn't tell Gizmodo whether it has any specific new policies in place regarding chatbots or generative AI apps. Blix did not immediately respond to Gizmodo's request for comment.
Apple, according to the Journal report, does apply that same 17-plus age restriction to more widely known generative AI-powered apps like Microsoft's new ChatGPT enabled Bing search engine. Google, by contrast, reportedly has no age restriction on Bing. Apple opts for the more conservative approach over concerns AI agents like Bing, or BlueMail's email generator, could potentially find and serve up adult content to younger audience. Still, Volach says Apple's policy lacks consistency and isn't' fairly applied to all apps using similar technology.

"We want fairness," Volach told the Journal. "If we're required to be 17-plus, then others should also have to."
Apple ultimately gets to set the standard for the level of AI filtering on iOS
Apple's role as one of the two major app store operators and the sole gatekeeper for iPhone users gives it immense power to set standards around the types of content that makes its way to user devices Specifically, the iPhone maker's App Store review guidelines states apps "should not include content that is offensive, insensitive, upsetting, intended to disgust, exceptionally poor taste, or just plain creepy."
Enforcement of those rules were on full display in the days following the January 6 attack on the U.S. capitol, when Apple, and Google, decided to boot right-wing app Parler off its platform. At the time, Apple said it found Parler's proposed content moderation measures "inadequate to address the proliferation of dangerous and objectionable content," on the platform. Apple eventually let Parler back on the App Store more than three months later.
On a higher level, newly minted Twitter CEO Elon Musk similarly claimed Apple threatened to remove Twitter from The App Store. Though Musk didn't provide concrete evidence to back up his claim, he suggested the threats were in response to his desire to quickly transition Twitter towards an anything goes, content moderation light maelstrom. "Do they [Apple] hate free speech in America?" Musk asked in a November tweet.
It's easy to pick on far right fringe apps and a paranoid billionaire but those aren't the only apps caught up in debate around Apple's content editorial preferences. In the late early 2010s, for example, Apple drew the ire of anti war activists worldwide after it blocked an app called Drones+ that would send users a push notification every time a U.S. drone strike was reported in the news. Apple reportedly blocked the app a dozen times for, "excessively objectionable or crude content." In 2021 alone, Apple says it blocked 1.6 million "risky and vulnerable" apps and updates on its platform.
There's good reasons for Apple to approach generative AI tools cautiously. Chatbots, in their dumber form, have a checkered history of spitting out racist, hate filled messages secured from the pits of 4Chan. More recent large language models (LLM) like ChatGPT and Google's Bard, may seem less overtly racist, but that's replaced with a troubling tendency to confidently blurt out bogus information under a veil of objectivity, a tik AI researcher call, "hallucinations." Google held off on offering its AI chatbots to the public over fears of potential abuse and misuse only to have Bard blurt out an incorrect hallucination during its first demo. That blunder cost the company $100 billion in lost market value the next day. Presumably, Apple would prefer to avoid that.
To the annoyance of many developers, Apple's internal guidelines for what they will and will not accept on their App Store are inherently subjective. Rather than squirm away from that and couch its policies in a patina of objectivity, Apple instead openly leans into its role as, The Decider.
"We will reject apps for any content or behavior that we believe is over the line," Apple says in its App Store Review Guidelines. "And we think that you will also know it when you cross it."