Tech giant Apple has scored a huge victory in its $1 billion original programming push, signing a multiyear deal with host and media magnate Oprah Winfrey to produce as-of-yet unspecified streaming content. According to the Wall Street Journal, the signing of Winfrey is expected to play into its long-rumored launch of a "direct-to-consumer video service" that "people familiar with the company's plans say... is expected to debut next year."
Per Reuters, little is yet known about what Winfrey will produce for Apple, though her deal with Discovery Inc. to found her own cable channel OWN is not expected to prevent her from appearing on screen as part of the effort:
Apple gave no details of the type of programming that Winfrey would create, the value of the deal, or when it might be released. Winfrey had no immediate comment.

Winfrey, 64, an influential movie and TV producer who also publishes a magazine, is expected to appear on screen, a source familiar with the deal said... Under the deal with Winfrey, she will remain chief executive of cable channel OWN, which she launched in 2011 in partnership with Discovery Inc. Winfrey in December extended her contract with OWN through 2025, OWN and Apple said.

Under her contract with OWN, Winfrey can appear on camera on other platforms on a limited basis.
In a statement to Reuters, Apple wrote, "Together, Winfrey and Apple will create original programs that embrace her incomparable ability to connect with audiences around the world."
The Journal's report of an Apple subscription TV service follows on the heels of another recent article in Bloomberg saying the company planned to more tightly integrate competitors' offerings into its Apple TV store:
For the first time, Apple plans to begin selling subscriptions to certain video services directly via its TV app, rather than asking users to subscribe to them through apps individually downloaded from the App Store, according to people familiar with the matter.
G/O Media may get a commission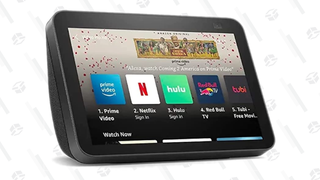 Apple has been racing against competitors like Netflix and Amazon to secure rights to new streaming content, which CNN Money notes has landed it up a celebrity lineup including "big names like Reese Witherspoon, Steven Spielberg, Octavia Spencer and Kevin Durant." Company executives have admitted that TV is new to them and primarily a way to keep users on Apple-owned platforms, with senior vice president Eddy Cue telling CNN Money, "So what skills does Apple bring to that? And the viewpoint is: very little. There's other things we bring. We know how to create apps, we know how to do distribution, we know how to market. But we don't really know how to create shows."
Netflix, however, poses some stiff competition—while Winfrey has been the subject of presidential-bid speculation, actual former President Barack Obama and former first lady Michelle Obama recently inked a deal to produce "scripted series, unscripted series, docu-series, documentaries and features," according to the New York Times. While Apple's $1 billion push is big money, Netflix and Amazon are splurging much more: $6.3 billion and $4.5 billion respectively in 2017.