Though Apple's live broadcast of its fourth quarter earnings doesn't start for another few minutes, they've already dumped the numbers on us. Here are the important ones: 6.9 million iPhones, 2.6 million Macs, and 11 million iPods. Wryly noting that "we sold more phones than RIM," Steve Jobs says they're still not sure how the recession is going to affect them, but whatever, bitches, they've got "$25 billion of cash safely in the bank with zero debt." We'll be following the call live in the post below, in case any other news breaks—like the death of the Mac mini. Update: Steve is on the call, says that iPhone is now 39 percent of their business, Apple is now world's "third largest mobile phone supplier."
Here's some context for the numbers: That's more iPhones than every previous quarter combined (6.1 million), the most Macs ever in a quarter (21 percent growth), and the most iPods ever in a non-holiday quarter. Apparently the iPhone would've been 39 percent of Apple's revenue in this quarter if they hadn't spread how it's accounted out over a stretched period of time. That's fairly incredible. And they've already passed the 10 million sold mark for 2008. Won't talk about how many new iPhone users with iPhone 3G vs. people trading in old one. Boooooooo.
Apparently they think the Mac sales would have even been better if the economy didn't suck and you assholes hadn't waited for the new notebooks, though they're not sure how the big impact of those things were. iPod marketshare is still over 70 percent in the US as of September, though most growth is abroad.
Steve Talking
Steve is talking about subscription accounting rules for iPhones over their two-year life and changing them because it's such a huge part of their business. "Apple beat RIM!" RIM sold 6.1. Apple sold 6.9 million. They're "a good company that makes good products" and it's amazing after 15 months in the market, Apple has beat them. "We're just happy to beat them numbers to numbers." 200 millionth app will be downloaded tomorrow.
G/O Media may get a commission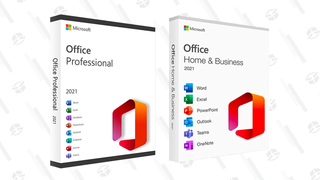 89% off
Microsoft Office Professional 2021 Lifetime License
Steve seems upbeat about shitty economy: "I wouldn't trade our customers for any other company's customers in the entire world." They'll delay in crappy times, they won't switch. Also feels good about their marketshare, and product lineup.
Steve on netbooks: "Not a lot of them getting sold. Our entrance into that category" is the iPhone. But "we'll wait and see" how the category evolves and "we've got some pretty interesting ideas if it does evolve." Also, "this particular downturn is not creating a market of cheaper computers, that market has existed for sometime. There are parts of that market we choose not to play in... We choose to be in certain segments of the market." "Our DNA" won't let them ship a $500 computer that's "a piece of junk."
They're trying to add more value to customers in segments they already play in, like making MacBook more Pro. He doesn't think the downturn will force Apple customers to use cheaper products.
Poor Apple TV, it will "continue to be a hobby" into 2009.
Steve on multiple kinds of iPhones: "From everything I've heard, Babe Ruth only had one home run, he just kept hitting it over and over again." It's all about software now. "We're extremely comfortable" doing what they're doing, and "approaching it as a software platform." And that's it.
It's clear Steve came on to ease investor fears about Apple's—and his own—health in the crappy economy. Based on after hours trading so far, it seems to be working.
Apple Reports Fourth Quarter Results
6.9 Million iPhones Sold
Mac Sales Reach All-Time High

CUPERTINO, California—October 21, 2008—Apple® today announced financial results for its fiscal 2008 fourth quarter ended September 27, 2008. The Company posted revenue of $7.9 billion and net quarterly profit of $1.14 billion, or $1.26 per diluted share. These results compare to revenue of $6.22 billion and net quarterly profit of $904 million, or $1.01 per diluted share, in the year-ago quarter. Gross margin was 34.7 percent, up from 33.6 percent in the year-ago quarter. International sales accounted for 41 percent of the quarter's revenue.

In accordance with the subscription accounting treatment required by GAAP, the Company recognizes revenue and cost of goods sold for iPhone™ and Apple TV® over their economic lives. Adjusting GAAP sales and product costs to eliminate the impact of subscription accounting, the corresponding non-GAAP measures* for the quarter are $11.68 billion of "Adjusted Sales" and $2.44 billion of "Adjusted Net Income."

Apple shipped 2,611,000 Macintosh® computers during the quarter, representing 21 percent unit growth and 17 percent revenue growth over the year-ago quarter. The Company sold 11,052,000 iPods during the quarter, representing eight percent unit growth and three percent revenue growth over the year-ago quarter. Quarterly iPhone units sold were 6,892,000 compared to 1,119,000 in the year-ago-quarter.

"Apple just reported one of the best quarters in its history, with a spectacular performance by the iPhone—we sold more phones than RIM," said Steve Jobs, Apple's CEO. "We don't yet know how this economic downturn will affect Apple. But we're armed with the strongest product line in our history, the most talented employees and the best customers in our industry. And $25 billion of cash safely in the bank with zero debt."

"We're very pleased to have grown revenue 35 percent and to have generated $9.1 billion in cash in fiscal 2008," said Peter Oppenheimer, Apple's CFO. "Looking ahead, visibility is low and forecasting is challenging, and as a result we are going to be prudent in predicting the December quarter. We are providing a wide range for our guidance, targeting revenue of $9.0 to $10.0 billion and earnings per diluted share between $1.06 and $1.35."

Apple will provide live streaming of its Q4 2008 financial results conference call utilizing QuickTime®, Apple's standards-based technology for live and on-demand audio and video streaming. The live webcast will begin at 2:00 p.m. PDT on Tuesday, October 21, 2008 at www.apple.com/quicktime/qtv/earningsq408/ and will also be available for replay for approximately two weeks thereafter.
[Apple]