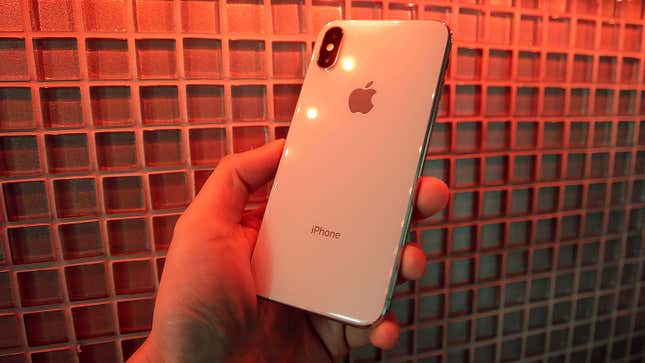 About a month ago, rumors leaked that Apple was testing green and purple paint jobs for the next batch of iPhones, and while it seemed like a stretch, new info from noted Apple analyst Ming-Chi Kuo has now added a bit more credibility to the idea that a bunch of brightly color iPhones might be available later this fall.
Apple's Vision Pro Seems Powerful, But Who Is It For? | Future Tech
In a bit of a twist, Kuo didn't mention green or purple, but the analyst said almost every other color could show up on 2018 iPhones, with the upcoming 6.1-inch iPhone X successor available in "gray, white, blue, red, and orange," while the larger 6.5-inch version may come in black, white, and gold.
Now, black isn't anything new for Apple, and it's possible that white and gray could just mean Apple's current silver and space gray finishes, but that would still leave iPhone fans with three (or four) bold new colors to choose from (depending on what kind of gold Apple goes with).
If the rumor is true, after years of pale handsets clad in various shades of gold, the upcoming iPhone lineup would be Apple's most colorful handset release since the iPhone 5C back in 2013. And if you ask me, based on the mock created by 9to5Mac (shown above), the iPhone's new paint jobs would look pretty good.
Also, if we look at the larger smartphone market, it seems after years of playing it safe (especially in the U.S. where multiple companies have told me that most consumers tend to stick with boring black or silver devices), handset makers are finally starting to get more adventurous with phones—like the gorgeous Huawei P20 Pro and its special chameleon paint job, the sweet signature Lilac Purple finish on the Galaxy S9, and the Xiaomi Mi 8 and HTC U12+ which both have versions sporting transparent backs.
But if you ask me, the one thing I'd really like to see Apple do is revisit the fruity colors found on iMacs and other Apple machines back in the late '90s and early 2000s. Aside from the Bondi Blue that most people remember, there were 12 other colors, including strawberry, sage, and tangerine, along with two rare. limited edition colors in Blue Dalmatian and Flower Power.
Considering the popularity of transparent case mods for the Nintendo Switch, I really don't think that's too much to ask. Make it happen, Apple.
[9to5Mac]