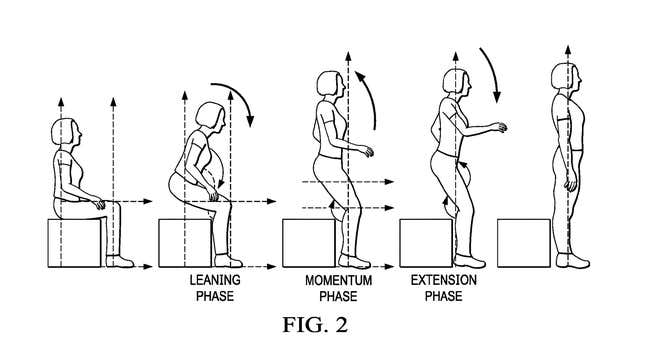 Apple's latest patents all center around tracking your whole body. Two patents from Apple first filed in 2021 and 2022 and revealed Thursday describe various concepts for detecting a body's every position and movement, all through existing Apple products. One of the patents mentions users wearing a "headset" along with another device to track posture. The other paper describes using common wearable devices to track a user's every move.
Chat GPT-4 Worth the Upgrade? | Future Tech
The earlier patent offers a few use cases beyond what can be accomplished with just a simple accelerometer. It could also detect a users' posture, whether they're sitting or standing or transitioning to one or the other. The sensors could help determine if a user is in a vehicle or alert a user to incoming obstacles. The second patent describes detecting all body movements using practically all wearable devices, including smartwatches and ear devices. This would include inertial sensors that could be embedded into an Apple Watch or AirPods alongside point-of-view video data to "reconstruct a full body 2D skeletal model."
In the first patent, Apple makes a particular mention of tracking a user's head position relative to the rest of their body. The patent makes specific mention of how this could be used in Apple's Spatial Audio applications, where motion from the headset could feed into the sound positioning software. It's also useful when a user is wearing a headset while sitting at a table, then stands up to walk away; in that case, Apple describes how the system should automatically switch from its sitting and stationary mode to a walking mode.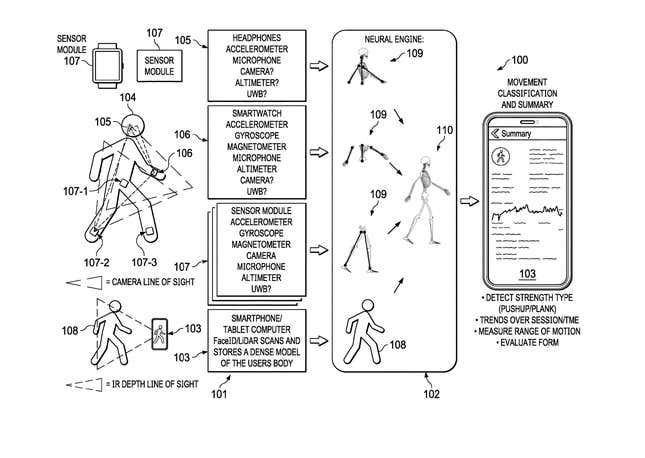 This technology could be a part of the Cupertino company's long-in the pipe mixed reality headset. The company is trying to get the headset out the door this year, though the device has reportedly been mired in delays due to both production and technical issues. On Thursday, Apple analyst Ming-Chi Kuo tweeted that the device production is getting pushed back to the third quarter of this year. If true, we likely won't see hide nor hair of the MR headset at the upcoming WWDC 2023 scheduled for this June.
The second patent specifically mentions how the movement tracking tech can be used "by a fitness application" to determine specific metrics like calories burned as well as additional "health monitoring" use cases.
Another patent revealed earlier this month showed that Apple is working on tech to scan a user's entire body. These external infrared sensors would be able to map the entire body in the same way phones use a biometric face scan to unlock a phone. The company's patent explicitly mentioned how this could be used in both fitness and health-related applications.
Patents shouldn't be taken as any indication the company is actively working on implementing this tech, though taken together, both these patents and earlier documents point to Apple thinking long and hard about creating fitness applications that encompass full-body tracking. Along with recent reports that the tech giant has made strides to include glucose tracking in its smart watches, Apple already seems positioned to add more health-related features to its device lineup.