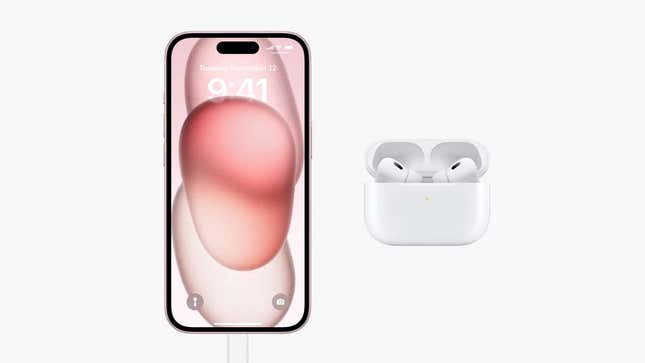 Perk up your ears—and then plug 'em with some Apple-brand earbuds—because Apple is back with its latest AirPods and this time, they're letting you charge with one of the most readily available cables around. On Tuesday, Apple announced its second-gen AirPods Pro would charge via USB-C instead of the Lightning cables of the past. The iPhone 15 and 15 Pro will also charge via USB-C, Apple announced Tuesday.

Is This the End of Apple's Lightning Cable?
Although Apple is also offering a different way to to charge AirPods with the ability to steal charge directly from an iPhone. The new version of the AirPods Pro are will be available for $249 starting Sept. 22.
What's Changed With the AirPods Pro?
During its "Wonderlust" event where the company announced its latest devices iPhone 15 and Apple Watch Series 9, Apple shared the latest on its new version of the AirPods Pro, which have very little in the way of substantial hardware updates. The most significant change is the case will use a USB-C port for charging instead of previous editions' Lightning connection.
The changing port is one thing, but the most interesting changes we should see with the AirPods Pro with iOS 17. In a press release, Apple said the first new feature people can expect is a new Adaptive Audio mode that adjusts noise cancelling depending on the ambient sound. This means the AirPods should dampen more annoying sounds like the nearby vacuum, but not necessarily the birds singing in the trees outside.
In addition, the new AirPods will automatically silence media playing on the phone if it recognizes somebody is speaking to the user. Apple also said it would use AI to add a Personalized Volume setting that should fine-tune itself based on what settings the listener tends to use. Much of these settings can be modified on iOS 17.

Other than USB-C, these earbuds are the same kind of device as last year's second-gen AirPods Pro which brought on the H2 chip and new options like customized spatial audio profiles. Despite those additions, the buds were a solid though minor iteration to the Apple product lineup, though with quality active noise canceling (ANC).
AirPods and AirPods Max Will Remain with Lightning, for Now
In addition, there's a revised version of the wired EarPods that uses USB-C. Unlike their more expensive cousin, the AirPods and AirPods Max won't receive the USB-C upgrade until sometime in 2024.
---
Want more of Gizmodo's consumer electronics picks? Check out our guides to the best phones, best laptops, best cameras, best televisions, best printers, and best tablets. If you want to learn about the next big thing, see our guide to everything we know about the iPhone 15. Click here to save on the best deals of the day, courtesy of our friends at The Inventory.