Despite a glitch with a solar array failing to deploy on Soyuz, three more astronauts arrived at the International Space Station on Thursday. Mission 41 is officially underway now that the station crew is back up to six people. The station is also once again at maximum capacity with five docked spacecraft.
Deadly Mississippi Tornado Kills More Than 2 Dozen | Extreme Earth
Top image: Soyuz TMA-14M rocket launching at the Baikonur Cosmodrome in Kazakhstan. credit: NASA/Joel Kowsky
Alexander Samokutyaev [bottom], Barry Wilmore [middle] and Elena Serova [top], wave farewell prior to boarding for launch. Image credit NASA/Joel Kowsky
G/O Media may get a commission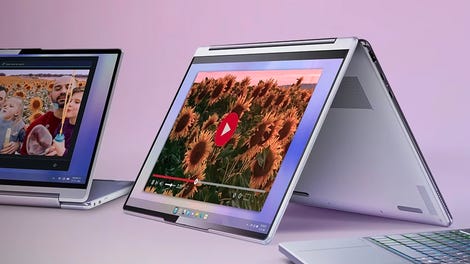 up to 70% off
Lenovo Spring Clearance
Soyuz Commander Alexander Samokutyaev and Flight Engineers Barry Wilmore and Elena Serova blasted off from Kazakhstan at 3:57 pm Eastern time.
The launch and arrival of new crew for the International Space Station on Thursday had a brief technical hiccup when a solar array on the Soyuz spacecraft failed to deploy. The spacecraft crew informed the station, "We're flying with one wing down." Aside from the failed array deployment, the burns went perfectly, taking the rocket on the short route to the station and arriving by 9:44 pm.
The array popped out after docking at the station. Both NASA and Roscosmos are reporting no damage or concerns with the craft, which will eventually return Samokuyaev, Wilmore, and Serova back to Earth. After docking, pressurizing, and completing checks, the hatch opened at 1:04 am.
Roscosmos cosmonauts Alexander Samokutyaev and Elena Serova, and NASA astronaut Barry Wilmore joined cosmonaut and ISS Commander Max Suraev, NASA astronaut Reid Wiseman, and ESA astronaut Alexander Gerst already on the station. Now the station crew is back up to six members after the departure of Steve Swanson, Alexander Skvortsov, and Oleg Artemyev on September 11th.
From left to right, Alexander Gerst, Max Suraev, and Reid Wiseman awaiting the arrival of their Expedition 41 crewmates. Image source: NASA
Serova is the first female cosmonaut to reside on the station. After media interviews asked her how she'll do her hair in microgravity and if her daughter will miss her, she already produced suitably exasperated responses by asking if they would ask the same questions of her male colleagues. If you're now curious about managing hair in microgravity, NASA astronaut Karen Nyberg produced a video on that washing hair during Expedition 36.
If we're talking about astronaut hair styles, Barry Wilmore got his hair cut at the Cosmonaut Hotel on the Tuesday before launch. Image credit: NASA/Dr. Peter Bauer
Transporting Soyuz to the launch pad. Image credit: NASA/Aubrey Gemignani
Along with the astronauts, Soyuz also transported zebrafish into orbit as part of an experiment in maintaining muscle mass in low gravity. Astronauts will be observing the fish, monitoring the growth of seedlings, and otherwise conducting an assortment of experiments during the mission's six month duration.
Soyuz rollout at the Baikonur Cosmodrome in Kazakhstan in the days leading up to launch. Image credit: NASA/Joel Kowsky
Mission 41 will continue until the departure of Suraev, Wiseman, and Gerst on November 9th while Samokutyaev, Serova, and Wilmore remain on the station for Mission 42.
All six astronauts. Image credit: NASA TV
The station is back at its current maximum visiting capacity with five spacecraft docked to assorted berths. Along with the two Soyuz capsules for that will return their respective astronauts to the planet, the station has three cargo transporters: Progress 56, ATV-5 Georges Lemaître, and the Dragon capsule that arrived on Tuesday.
Canadarm snaking out to snare the Dragon. Image credit: NASA/ESA