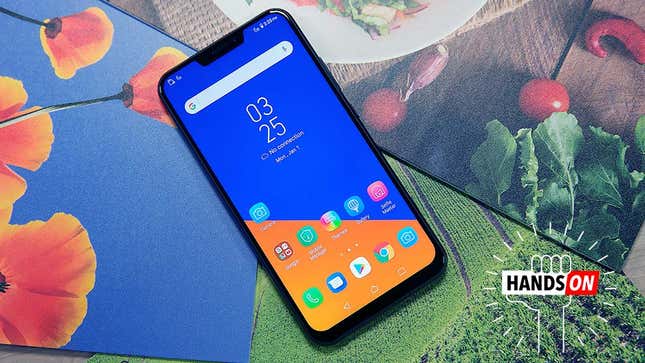 While better known for its various PCs and gaming products, Asus has been making smartphones for quite some time. Over the previous four generations of Zenfones, Asus had always skipped the world's largest smartphone trade show, MWC in Barcelona. The reason? According to Asus' head of global marketing Marcel Campos, "[We] just weren't ready." But it seems things are different now, because at MWC 2018, Asus is coming hard with the new Zenphone 5.

Coastal Animals Are Thriving on Plastic Pollution Out in the Pacific Ocean | Extreme Earth
Available in three different models: The $500 "premium" Zenfone 5Z, the standard Zenfone 5 (price TBA), and the entry-level Zenfone 5 Q (which is called the Zenfone 5 Lite in other countries, also price TBA), Asus' new phones boast specs that read much like those of industry leaders, including dual rear cameras with a 2x zoom, powerful stereo speakers, face unlock, and a bunch of regular features with "AI" tacked in front, like "AI" charging, and an "AI" display with a 90-percent screen-to-body ratio. The Zenfone 5 even has a notch at the top of its screen similar to the new top product from Timmy Cook's California Fruit Enterprise. What a novel idea.
But beneath the surface, is Asus actually ready to compete alongside other top-tier smartphones launched at MWC, like Samsung's Galaxy S9 and Sony's Xperia XZ2? Umm no, not quite. Instead, what we're really looking at is Asus' take on a budget iPhone X clone running Android.
Look, this isn't the first time Asus has unabashedly copied a rival product, so we probably shouldn't be surprised that it's cribbing heavily from Apple's playbook. Even though its notch looks quite similar, the Zenfone 5 does have slimmer bezels than the iPhone X, which tops out with the screen-to-body ratio of just 82.9 percent. Additionally, while the styling of the new Zenfones aren't particularly creative, I appreciate that Asus added its signature concentric ring styling beneath the glass in back. And unlike the iPhone X, the Zenfone 5 has a headphone jack. (I WILL NEVER FORGET!)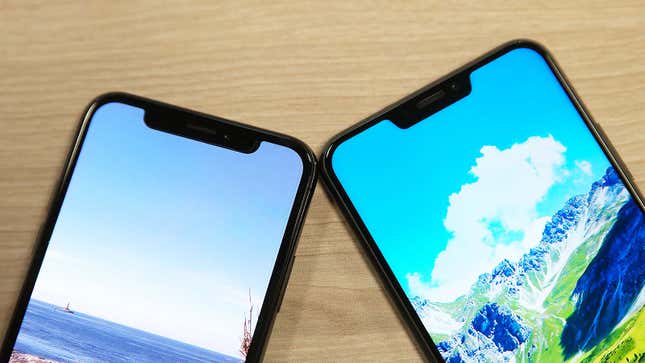 What's much more offensive is the way Asus is recklessly throwing around terms like AI and smart. At a press briefing that went over the details of its new phone, Asus claimed the Zenfone's dual 12-megapixel rear cameras were flagship class. While it does have Sony's newly released IMX 363 sensor, the camera sports a max aperture of f/1.8, which is the same as what LG debuted last year on the G6, and half a stop slower than the f/1.5 sensor on the new Galaxy S9. Gosh.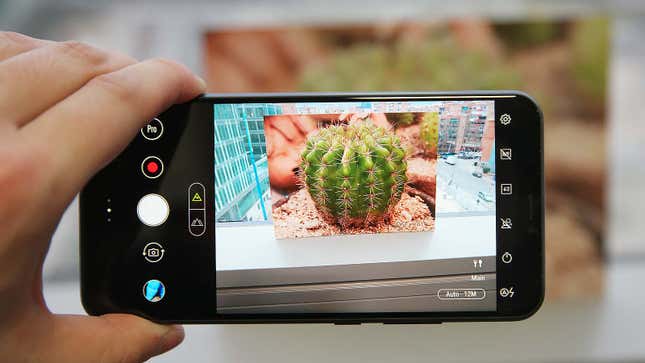 But wait, it has dual cameras, surely that's worth something right? Nope, especially after Alcatel announced a line of phones with dual cameras priced under 100 euros. Then Asus said the Zenfone 5 has an AI camera, which like Huawei's Mate 10 Pro, can use built-in smarts to detect certain objects and use that knowledge to adjusts your picture. The problem is that when I tried that feature out for real, it was often hit or miss, with the phone getting confused if a cactus qualified as food or a plant. Look, I know people eat cacti all the time, but as pictured, there's no way I'm not putting that spiky plant in my mouth.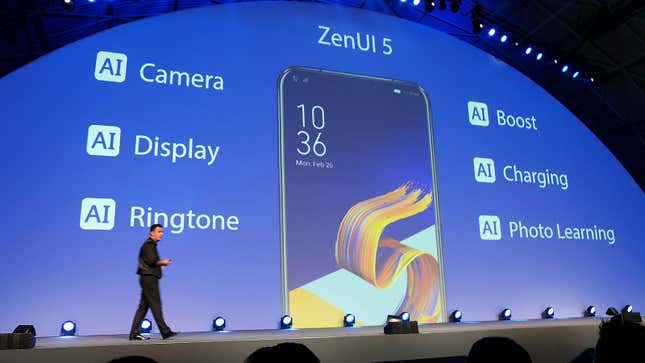 Then there's the Zenfone's display, which at 6.2-inches across and featuring a 19:9 FHD+ resolution, looked remarkably sharp. But then, Asus ruined it by saying it has an AI display that can automatically adjust its color temperature according to your environment. A lot of phones already do this. Apple calls it a True Tone display. It's a cool feature, but no one else besides Asus says AI is what's making it happen. Asus says even the phone's stereo speakers have so-called smart amps. When I listened them they were quite loud, but their audio didn't sound that great.
And then there's the Zenfone 5's "smart screen on" thing, which will override the device's screen lockout timer to prevent it from turning off the display if you are still looking at it. I'm sorry, but it doesn't take much smarts to detect if a face is in front of the screen or not.
Thankfully, at least the Zenfone 5's core specs look good. The top-end Zenfone 5Z will come with a flagship-worthy Snapdragon 845 processor, up to 8GB of RAM and 256GB of storage, that's not bad. Meanwhile, the less expensive Zenfone 5 and Zenfone 5Q will sport Snapdragon 636, 630 or 430 CPUs, 4GB or 6GB of RAM and 32GB or 64GB of storage, depending on the model. I even like how Asus got rid of all their redundant first-party software in favor of Google's standard Android apps, which are what everyone is going to use anyways.
The one sad thing is that none of the Zenfone 5 phones seem to have any sort of water resistance. Oh, and while Asus was copying Apple's designs, the company also went and made their own Animojis too, which are called, you guessed it, Zenimoji.
Overly hyped features and uninspired designs aside, the newest generation of Zenfones actually seem quite nice, especially the 5Z, which might be a downright steal at just $500. But with this bullshit messaging, people may never figure that out over the roar of others crying foul about the misuse of AI. Asus, you don't need to trick us into thinking a phone is super smart for us to realize when we're getting a good deal. Look for the Zenfones to arrive later this spring and early summer.