He said he was "hugely unconvinced" on the science of climate change and once called wind turbines "awful." Now the same Australian prime minister who's been labeled an environmental villain has been removed from office.
As we reported back in July, Tony Abbott's troubled term included undoing lots of the great work that Australia had accomplished in the clean energy arena, most recently ordering national banks to stop financing wind and solar programs:
After assuming office, Abbott quickly moved to dismantle Australia's limited carbon reduction systems, lower the country's renewable energy targets, and disband a climate advisory body. In September of 2014, Abbott was notably absent from a UN climate summit that included more than 120 world leaders.
Even without widespread government support for solar, Australians have taken matters into their own hands to ensure a renewable energy future—about 15% of Australian homes currently have photovoltaic cells. But with perpetually sunniest skies and some of the fastest-growing adoption rates in the world, the country could easily be the global leader when it comes to solar energy. With the right government support, that actually might happen.
Throughout Abbott's term a former Minister of the Environment named Malcolm Turnbull has been his most contentious critic when it comes to climate change (what is it with powerful Australians and climate change denial?). Turnbull even publicly called Abbott's weak emissions policy "bullshit." In some very good news for the country (and the planet): Turnbull has just been named as Abbott's successor.
G/O Media may get a commission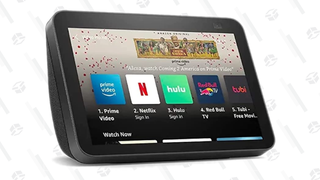 While Turnbull hasn't formally announced any policy changes yet, he has been a vehement supporter of a carbon tax which would deter coal-fire power production. With the next round of UN climate talks coming up in December, this is perfect timing to get Australia engaged in true climate regulations on the global stage.
[CNN]
AP Photo/Rick Rycroft, File