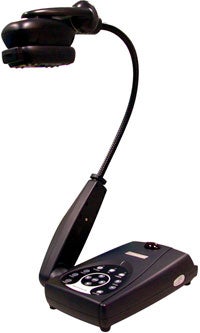 For the teachers and other professionals in the audience who use overhead projectors regularly, the AVerVision 150 Portable Document Camera could save you some much needed time. Or not. Equipped with a three-megapixel camera, the AVerVision 150 takes pictures of documents—homework assignments, quarterly reports, arrest warrants, etc.—for later VGA display. There's enough memory to hold 35 JPEGs, though the actual amount of memory on this puppy isn't specified. If you so desire, you can offload pictures to a PC or Mac via a USB cable.
The camera also doubles as a Web cam, capturing video at 24 frames-per-second. It makes use of Averzoom technology, which allows users to zoom in and out without having to continually pan around to re-center the image.
The AVerVision 150 is available now and retails for $599.99, which seems awfully high for what amounts to a specialized digital camera. What's born every minute?

Press Release [AVerMedia via Everything USB]