James Gunn talks about when Guardians of the Galaxy Vol 2. is set. Michael Dougherty offers an update on the Trick r' Treat sequel. Doctor Strange might include some intriguing comic book cameos. Andrew Kreisberg discusses why Supergirl is bringing in Miss Martian. Plus new looks at Scream Queens and Lucifer's return. Spoilers!
The Flash
Heroic Hollywood's Umberto Gonzalez claims that Barry Allen will face not just one villain, but a whole team of them in the movie—specifically the Rogues, the classic team of Flash villains including the likes of Captain Cold, Heatwave, Weather Wizard, and many more.
Considering Gonzalez chose to reveal this scoop through, of all things, a periscope stream rather than either for his work through Heroic Hollywood or The Wrap may indicate that you might need to take this rumor with a larger pinch of salt than usual, however.
---
The Nutcracker
Helen Mirren in talks to play Mother Ginger—a gigantic living Gingerbread house in the ballet. [THR]
G/O Media may get a commission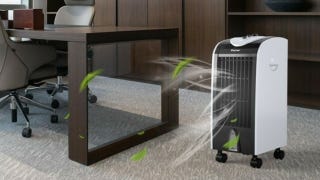 Save $10
Evaporative Portable Air Conditioner Cooler with Filter Knob
---
Doctor Strange
The Hashtag Show claims that both Tina Minoru (mother of Runaways character Nico Minoru) and Jericho Drumm, better known as the magical hero Brother Voodoo, will have cameos in the movie. It would make sense, as both Minoru and Drumm's brother, Daniel, recently appeared in the film's prelude tie-in comic, as masters of the Mystic Arts alongside Wong—but that's not necessarily confirmation.
---
New Mutants
The Fault in Our Stars screenwriters Scott Neustadter and Michael H. Weber have been brought in to pen the film's script. [THR]
---
Guardians of the Galaxy Vol. 2
Speaking in another of his regular fan Q&A sessions on Facebook, James Gunn discussed when the film exactly takes place in the Marvel timeline, and what fans actually know about the movie so far:
I think we've given out the people that are in Guardians 2 that we're going to give out so far, uh, which is we know Baby Groot is in the movie and that he's not an adult. We know that the movie takes place 2 months after the first movie ends. We know that Ego is the father of Peter Quill, that he's an ancient being. He's played by Kurt Russell. We know, what else do we know, we know that Mantis is in the movie. We know that Yondu and Nebula have more important roles in the film. We know that Sylvester Stallone is playing someone in the film. We don't know who. So those are kind of the things that we know that are out there right now, and as time goes on we'll let you know a little bit more.
---
Angry Birds 2
A sequel to the (not great) video game adaptation is now officially on the way. [Wall Street Journal]
---
Trick R' Treat 2
Michael Dougherty offers an update on the sequel's status:
I'm going to speak carefully about that [Laughs], because the moment I utter a word about the sequel, everybody starts salivating. It is very much my intention to make the sequel. Legendary is very committed to making the movie. Creatively, it's in process. When it actually happens, I don't know. But, hopefully, stuff like this — the digital decorations, the comic books, the merchandise, and what have you — will tide people over and I can finally get around to making it. Nothing would make me happier than returning to that universe. Like, I miss Sam. When we were shooting these vignettes, I was getting a little bit emotional because I would love nothing more than to hang out with Sam again for a year or two, bringing him back to the big screen.
[/Film]
---
Avengers: Infinity War
Joe Russo told the Huffington Post that yes, the ending of Civil War did indicate that Steve Rogers has currently dropped the mantle of Captain America, going into the next Avengers film:

I think him dropping that shield is him letting go of that identity. [It's] him admitting that certainly the identity of Captain America was in conflict with the very personal choice that he was making.
---
Supergirl
Here's Andrew Kreisberg on why the show is introducing Miss Martian in season two:
Part of the reason we're bringing on Miss Martian is to give J'onn his own story this year and his own emotional ride, meeting her and having this tie to his home world that he thought he would never have again. As he has to keep reminding people, he's been here for 300 years and isolated for most of it. Last year, with his relationship with Alex and his relationship with Kara, he started to come out of his shell a little bit and wasn't quite so afraid to show who he really was. So, in getting to interact with M'gann, he's going to have a whole new person with which to share his martian experience. We think it's going to be a great story.
[Collider]
---
Lucifer
Here's a brief new promo for season two.
---
Scream Queens
New pictures of the cast have been released—find more at the link. [TVLine]
---
The Last Man On Earth
Finally, here's some new key art for the next series. [TV Line]
---
Additional reporting by Gordon Jackson. Banner art by Jim Cooke.