The Jawbone Jambox was a pretty good bluetooth speaker, if not entirely perfect. But it had the benefit of being one of the first portable bluetooth speakers to combine design, affordability and ease of use along with quality. But in the Bluetooth market there's always room for improvement and though we've seen a couple of legit challengers already, the Beats Pill Bluetooth speaker could have a shot at dethroning the Jambox.
For starters, the $200 Pill packs 12 watts of power and four 1-inch drivers into its attractive design (comprised of metal and soft-touch plastic), and is able to provide a decent amount of bass and clarity, even at high volumes. Its battery can last up to 7.5 hours (presumably using a wired connection), and uses pretty standard Bluetooth audio standards (BT 2.1, Apt-X, AAC).
But the Pill has a few other tricks. For starters, it has an NFC chip implanted in its body that will allow not just NFC-enabled HTC phones, but also all Android Jellybean NFC phones, along with the Lumia 920, to sync up with the speaker using a single tap. It also has an audio-out passthrough which will allow you to connect any speakers you want and transform the Pill into a bluetooth receiver. Not too shabby.
G/O Media may get a commission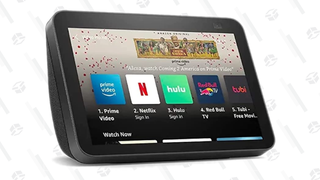 Also coming today are a previously announced pair of noise cancelling headphones—Beats Executive—and a new pair of earbuds called urBeats. The $300 Beats Executives combine aluminum and leather materials with the aforementioned travel-friendly features. As for the urBeats, they're sImply described as an improved pair of buds from the ones that ship with HTC phones, the noisemakers will be available for $100 and come in three colors (black, white, grey).
All three products are available starting today online and at Beats retail locations. [Beats]