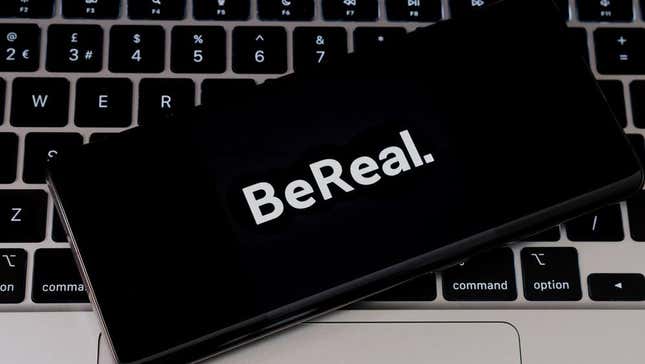 BeReal dropped a new feature to help users better connect with their friends by using RealMoji reactions or RealChat. The addition seems similar to Instagram, as BeReal seems to compete with the platform to stay in the social media limelight.
Nobody's Really Watching Reels
RealChat will provide "a space to privately and authentically share and react to each other's BeReal, share a unique BeReal to stay connected with their close friends," a BeReal spokesperson said in an email to Gizmodo. The shift will not only allow friends to message each other in a one-on-one chat, but they will also be able to converse privately, much like direct messaging on other social media platforms.
As with many social media platforms, the rollout will introduce methods to prevent messages from users you don't want to hear from by allowing people to block certain users from sending them messages and report messages or conversations to the BeReal team. Once the team receives a report, the spokesperson said they will "review and take action against" the individual. When we become aware of a violation of our Community Standards, we'll take swift action, including suspending users if needed," the spokesperson added.
The new feature is in response to users' requests that they be able to chat with their friends and the current parameters are part of an initial test to see how it is received, BeReal said in a news release. The company said after the initial test, "We'll shake things up and begin challenging the norms of communication — the BeReal way."
The updates come as BeReal continues to compete with Instagram as the next social media app for teens, promoting itself as a place where people could post images of themselves to show their real-life actions, rather than view them through the lens of influencers. But less than a year after the app rose in popularity, users have reportedly begun deleting it after tiring of the monotony of scrolling through nearly identical pictures.
"Gen Z hops on trains really fast, but they hop off even faster," Night Noroña, 17, told The New York Times in April, after saying he deleted the app after only a few months.
The outlet reported that BeReal's monthly downloads started slipping in September, and according to the market intelligence firm, Sensor Tower, the number of users has drastically decreased by 61%. Apptopia, an analytics firm reported users dropped from 15 million users in October of last year to less than six million in March, The Times reported. Although BeReal has historically been quiet about its metrics, the company disputes the previous estimates, and says they're growing globally, and have more than 20 million active daily users.
BeReal does not release its numbers to the public, but said in a statement in November, "We want for ourselves what we want for our users — not to chase fame or the spotlight or to be tethered to metrics like the number of followers or number of downloads." The company added, "We don't share our numbers, even though we see lots of rumored estimates online. In the spirit of authenticity and veracity, we'll say to take these figures for what they are... estimates."
Updated: 6/1 10:42 a.m. to include BeReal's comment on the number of daily users.