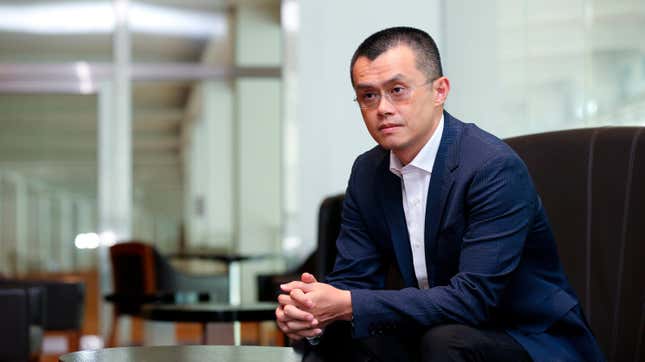 Binance, the world's largest crypto exchange by trading volume, just can't catch a break. With one arm, the exchange is trying to slap away the grabbing hands of lawmakers and regulators. With Binance's other arm, it beckons to its customers and investors, pleading with them to keep on putting their crypto in its care, despite the regulatory war drums growing louder in the background.
Robinhood App Lays Off 9% of Staff
This past Monday, the Commodity Futures Trading Commission sued Binance, saying both the company and its executives actively "disregarded applicable federal laws" in the U.S. while trying to grow its customer base in the country without properly registering. On Wednesday, Reuters first reported based on data from blockchain analytics firm Nansen that Binance has experienced more than $1.6 billion withdrawals since the CFTC first slapped it with the lawsuit. In the last 24 hours, users dragged $852 million of their assets off the exchange, more than twice the average of $385 million per day over the previous two weeks.
For some additional perspective, Binance has been able to weather similar blows, at least on the surface. Last December, the exchange temporarily paused withdrawals after a massive spike in user activity. Binance CEO Changpeng Zhao told its users that it was conducting a token swap with its USDC stablecoin, and that it was fine taking on almost $3.7 billion in withdrawals within a short span of time.
A Binance spokesperson told Gizmodo that "The withdrawals we have seen in the past few days have been significantly lower than in other periods of negative news," adding "We can always meet these withdrawal requests because we run a very simple business model—hold assets in custody and generate revenue from transaction fees."
The company pointed to Nansen data which showed its on-chain portfolio contains $64 billion in several crypto assets, especially bitcoin and USDT. Another 10% of its assets were the BUSD stableoin, which Binance recently said it needs to "move away" from after regulators slapped down its issuer Paxos.
The CFTC lawsuit laid out quite a few big allegations against the company, including that Zhao directed Binance employees to spoof their locations through VPNs. The agency also brought long-reported allegations the company has failed to stop money laundering on its platform or implement effective know-your-customer safeguards. The agency further alleged the exchange relied on a "maze of corporate entities" to operate Binance without proper regulatory safeguards. Binance's U.S. subsidiary Binance.US has been hit with more allegations that Zhao has actively taken money out of its related banks, even though the two firms were supposed to be completely separate.
Binance has long been a closed organization that seemed purpose built for obfuscation. It does not list a specific headquarters and country of origin, though it has previously claimed it does not operate in countries like China. On Wednesday, a new Financial Times report claimed, based on leaked internal documents, that Zhao and other leaders told company employees to actively hide the fact the company remained in China. They allegedly had an office in the country until at least late 2019, and has used a Chinese bank to pay employees in the country.
The Binance spokesperson called this "ancient history (in crypto terms)" and further argued the company does not operate in China and that it does not have any servers or data in the country.
Managers reportedly told staff to publicly claim the company has offices in Malta, Singapore, and Uganda, but told them not to "confirm" there were other offices in China. The Beijing government has tightened the screws on crypto over the last few years, including an explicit ban, but CNBC reported last week that on Discord and Telegram servers Binance-trained volunteers called "Angels" were offering advice from Binance on how to subvert those restrictions.
Earlier this month, Senators Elizabeth Warren, Chris Van Hollen and Roger Marshall sent a letter to Binance.US President Brian Shroder and Zhao alleging the exchange was a "hotbed of illegal financial activity." The senators argued Binance has dodged U.S. regulators and facilitated money laundering.
On Tuesday, Zhao and co. finally responded to the allegations. In a blog post, Chief Strategy Officer Patrick Hillmann wrote that the company "regularly engages with U.S. law enforcement" and further touted the company's proof-of-reserves report, despite wide criticisms that the limited audit did not fully represent Binance's activities.
Hillmann said that after the 2017 crypto crackdowns in mainland China, Binance "determined that it would have no single principal place of business." He further argued that Binance and Binance.US are separate, despite reports that Zhao was dipping into both.