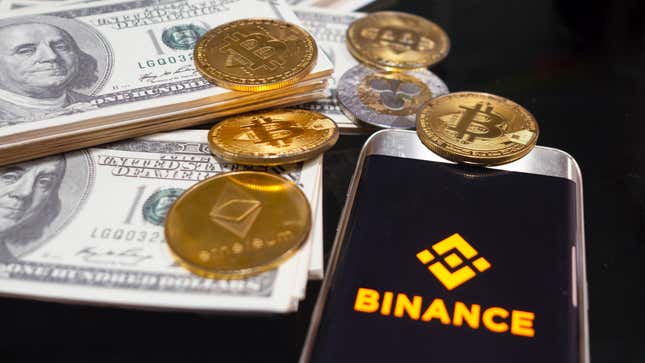 The world's largest crypto exchange Binance is facing intense scrutiny as of late, and the pressure doesn't seem to be letting up. Through the exchange's U.S.-based "partner" Binance.US, the crypto company has been looking to Pac-Man up failed exchange Voyager Digital assets after striking a deal back in December last year. Just a few months later, major regulators are asking the courts to nix that planned buyout, saying it violates securities laws.
"It's Hard Not to Make Your Own Special Effect Noises When You're Doing Action" | io9 Interview
In court filings published Wednesday, the Securities and Exchange Commission and the New York State Department of Financial Services both signed objections to Binance's planned buyout of Voyager, as the company has hobbled along through its Chapter 11 bankruptcy proceedings. The agency asked the New York Southern District Bankruptcy Court to nix the planned purchase.
In its objection to the merger, the SEC wrote that the deal may involve the trade of unregistered securities. Specifically, the agency wrote that Voyager and Binance.US haven't described whether "third parties, including Binance.US affiliates or foreign persons or entities" will have access to customer wallets. This seems to be inferring that Binance would have access to that former exchange's customers and their crypto.
The New York financial regulators had similar arguments, saying that Voyager "illegally operated a virtual currency business within the state without a license." The department further claimed that beleaguered account holders would be even less likely to get their money back since Binance.US still doesn't have a license to operate in the state. Voyager gets to hold on to users' crypto for six months after or until the exchange gets approval, according to the buyout, and in that time the regulators argue New York customers will be even more shit out of luck getting their funds back.
In an email statement sent to Gizmodo, a Binance.US spokesperson said:
"We will work with relevant parties to provide any requested information, as Binance.US customer assets always remain on the platform, are held on a 1:1 basis and are fully reserved. We look forward to bringing Voyager customers to Binance.US, and are pleased that 97% of Voyager customers have already voted to approve our plan."
Gizmodo also reached out to lawyer representing Voyager for comment, but we did not immediately hear back. A few others filed objections to the planned Voyager purchase, including a few Voyager creditors. New York Attorney General Letitia James' office signed on to the state financial department's objections.
Both regulatory entities just recently got done sticking it to Binance over Paxos-issued BUSD stablecoin. The SEC had planned to sue Paxos over its stablecoin, and shortly afterwards the New York regulators ordered Paxos to quit minting new wrapped USD coins. Paxos is now in "discussions" with the SEC regarding its stablecoin, according to Reuters. Though it remains unclear what kinds of discussions those may be.
Binance and its CEO Changpeng Zhao have long tried to maintain that Binance.US is an "independent" partner. However, that's long been in doubt especially since it's previous CEO Brian Brooks reportedly quit after trying to gain a little more distance between it and its namesake. Last week, Reuters reported that Zhao had secret access to a bank account owned by Binance.US, and had been taking funds out of the account for his own use. Binance.US later confirmed that a Zhao-managed firm had operated on its platform, but claimed it "stopped all activity" in 2021.
Update 2/23/23 at 12:25 p.m. ET: This article was updated to include a statement from a Binance.US spokesperson.