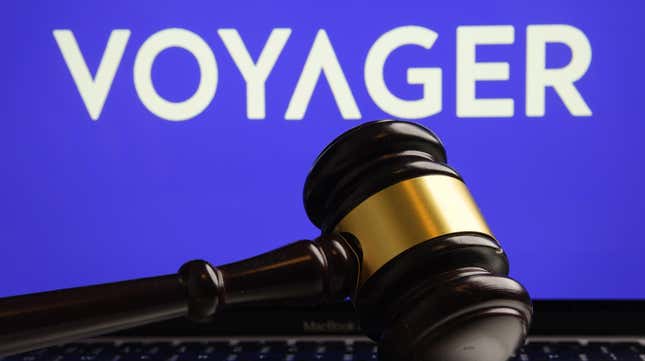 If you're one of the many thousands of customers from bankrupt crypto company Voyager Digital, you're going to have to wait even longer to see your locked funds as hopes for a Binance.US buyout have been squashed flat.
"It's Hard Not to Make Your Own Special Effect Noises When You're Doing Action" | io9 Interview
Voyager confirmed Binance.US was terminating its planned purchase agreement of bankrupt crypto broker Voyager's $1.3 billion in assets in a tweet on Tuesday. The company said the decision was "disappointing" but it still promised it would be distributing customers' cash during its ongoing bankruptcy. Meanwhile, the Voyager Official Committee of Unsecured Creditors, the group of Voyager investors supposed to represent all the folks locked away from their funds, claimed it would investigate "potential claims" against Binance.US.
The crypto broker Voyager disabled user trading and declared Chapter 11 bankruptcy in July last year. Voyager then sought a deal with Binance.US which would have had the exchange purchase all its assets, including Voyager's beleaguered customers and assets valued at $1.3 billion, for around $1 billion. Binance.US CEO Brian Shroder previously promised they would have returned users' crypto on "the fastest timeline" once a deal was reached.
In a bankruptcy filing dated April 25, Voyager is owed a termination fee and the $10 million deposit initially put up by Binance.US. Still, Voyager creditors have previously claimed in court documents that if the deal didn't go through, Voyager customers would lose out on around $100 million.
Binance CEO Changpeng Zhao has previously made murmurings of backing out of the deal as recently as early March. Though the purchase agreement cleared bureaucratic hurdles late last month, the judge handling the Voyager buyout, U.S. District Judge Jennifer Rearden, put a hold on the deal citing the objections from federal and state financial watchdogs.
The Securities and Exchange Commission along with New York financial regulators issued objections to the planned buyout, saying that deal was trading in unregistered securities. Less than a week ago, the court allowed the bulk of the $1 billion deal to go forward while an appeal was being worked out. Voyager lawyers had shared their concerns that Binance.US would pull out of the deal after a 4-month deadline expired. The bankrupt firm appealed to the court to speed up the appeal process, though the court denied their request.
The company was just one of many crypto dominos to fall last spring, leaving thousands upon thousands of customers without access to millions of dollars in funds holed up in these bankrupt exchanges and crypto firms. Binance.US, which still claims is just a "partner" of the global Binance brand, is probably more worried about its own issues, like that ongoing CFTC lawsuit amid fears of a full U.S. criminal investigation.
---
This article is part of a developing story. Our writers and editors will be updating this page as new information is released. Please check back again in a few minutes to see the latest updates. Meanwhile, if you want more news coverage, check out our tech, science, or io9 front pages. And you can always see the most recent Gizmodo news stories at gizmodo.com/latest.