The first Blade Runner movie takes place in the far-off, hard-to-imagine year 2019, and the upcoming sequel takes place several decades after that. As this first concept art reveals, the future of future L.A. isn't bright at all.

"The climate has gone berserk – the ocean, the rain, the snow is all toxic," [director Denis] Villeneuve says to Entertainment Weekly. Things seem to have generally gotten more horrible since the first movie, as humanity has continually trashed the planet and ignored the consequences. It might not be particularly subtle, but it does seem appropriately Blade Runner-y—after all most animals had been eradicated and replaced by synthetics by the time of the first movie. Nature is obviously next to go.
Here's another:
EW says:
The vehicle pictured in this exclusive concept art from the sequel, Villeneuve says, is a kind of snow blower that hovers over the streets and destroys snow. He laughs. "It's a Canadian wet dream!"
G/O Media may get a commission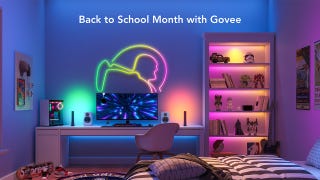 Back to School
Back to School Month with Govee Sale
In the original movie, the studio infamously added a "happy" ending where Deckard and Rachael escaped the city, presumably to live in a cabin in the woods somewhere. Not that I think Blade Runner 2 will acknowledge that ending, but it's clear that even if they did escape, their freedom from humanity was... limited.