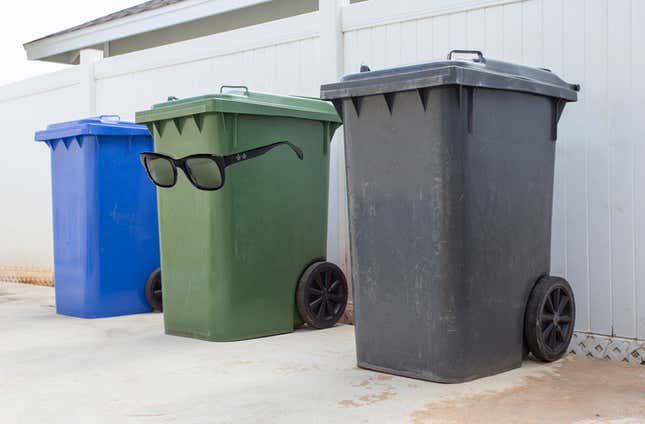 While most of us eventually stop playing spies, American police departments have found it increasingly tough to grow up, using military-developed surveillance equipment for crimes as minor as 911 hangups in recent years. Sensing an opportunity, defense contractors apparently stepped in to fulfill the demand, as demonstrated by a newly leaked 2014 product catalog from British defense firm Cobham.
Apple's Vision Pro Seems Powerful, But Who Is It For? | Future Tech
Obtained by The Intercept as part of a larger document dump from the Florida Department of Law Enforcement, the 120-page catalog for "tactical communications and surveillance" devices suggests almost comical uses for its sick spy gear. The Cobham SOL8HDTX video transmitter, for instance, is ready to be concealed in items ranging from "iHOME" to "Outdoor Trash can."
"Discreet design is the key word for any equipment used in covert operations," reads the catalog. "Concealments that resemble everyday objects are an effective way to covertly monitor targets and gather vital information."
Alongside the bugged pocket knives and James Bond belts, however, the catalog offers more troubling wares. A section titled "Cellular Surveillance" explains how the company's cell phone tower-spoofing IMSI catchers (popularly known as "Stingrays") can be used for "identifying and monitoring suspects, exploring target contact details and intercepting outgoing voice calls and SMS messages."

"By design, these devices are indiscriminate and operate across a wide area where many people may be present," Privacy International technologist Richard Tynan told The Intercept, characterizing the equipment as "the essence of mass surveillance."
For its part, Britain's 5th largest defense firm has apparently since left the spy game: In January, Cobham sold its aptly-named "Surveillance Business" division to Marlin Equity Partners for a reported $10 million in cash.