So, the British Government is supposedly outsourcing its referendums to...Lego and Buzzfeed? According to a financial analysis from HM Treasury, if Scotland chooses to remain as a part of the UK (rather than vote for independence), each person in Scotland would be "£1400 better off every year." A Buzzfeed post in the "You Decide" section was submitted by an anonymous user who posited 12 examples of what that cash could be used for, accompanied by Lego scenes.
Cute, right? Well, yes, and no. You see, the British Government reposted the Buzzfeed listicle on their official government website, and well, I guess people don't really like major constitutional issues to be dumbed down to Lego, and how many hot dogs you'll be able to eat at Edinburgh festival. Though to be fair, if Scots choose to remain part of the UK, they'll be able to afford a hell of a lot of hot dogs, allegedly.
UPDATE: Lego has reportedly requested that the UK government take down the Buzzfeed Post from their official website. As anyone who's a fan of Lego knows, the company is pretty adamant about staying apolitical.
It was supposed to be a brick-by brick demolition of the economic case for Scottish independence, but the UK government's attempts hit an unexpected brick wall of their own – toy manufacturer Lego. The company asked the government to remove images of Lego figures used in a press release telling Scottish voters all the ways they could spend the money they would apparently save by voting against independence. "We have requested that the images are removed due to our neutral political stance. We are a children's toy company and therefore all of our communication is targeted towards children. People all over the world use Lego to depict stories and scenarios – some of it not to our knowledge. We maintain our position as being a politically neutral company." -The Guardian
LATEST UPDATE! According to The Scotsman, the British government has now removed the controversial post, after tremendous outcry from the Lego company, pro-Independence supporters and basically everyone who felt like using a Buzzfeed post to support a government referendum was patronizing and incredibly tacky.
The SNP's Treasury spokesman Stuart Hosie MP called the stunt 'patronising', adding: "It's not surprising Lego want nothing to do with this, and demanded the Treasury remove it from their website. The No campaign's bogus arguments against a Yes vote are being dismantled brick by brick. This is the kind of patronising attitude to Scotland we have come to expect from the Tory Treasury - presumably the establishment elite think we spend all our time eating fish and chips and pies. The Treasury figures have been roundly discredited, so this is just adding insult to injury. Real figures are that £300 billion of North Sea tax revenues have flowed from Scotland to the Treasury over the last 40 years - nearly £60,000 for every man, woman and child - and Scotland has contributed more tax per head than the rest of the UK in each one of the last 33 years. But all we get in return from Westminster is bogus figures and silly nonsense." - The Scotsman
G/O Media may get a commission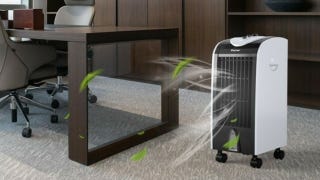 Save $10
Evaporative Portable Air Conditioner Cooler with Filter Knob
The original post from Buzzfeed:
1. An overseas holiday for two with cash leftover for sun cream.
Average cost: £680 per person for a 10-day jaunt.
Source: Telegraph, August 2012.
2. Pay for Christmas presents twice over, with some money left over to spend on Hogmanay celebrations.
Average spend on Christmas in Scotland: £610.
Source: Huffington Post, December 2013.
3. Hop on the bus between Glasgow and Edinburgh (and back) 127 times. That's the equivalent of a daily commute for more than 5 and half months.
Average cost: £11 for a return ticket.
Source: City Link, price correct on May 16, 2014.
4. Scoff 280 hotdogs at the Edinburgh Festival.
Average cost: £5.
Source: Edinburgh Festival FAQs, correct on May 16, 2014.
5. Cover your family's yearly shoe habit for about the next 6 years.
Average annual household spend on footwear in Scotland: £234.
Source: ONS - Table A35, December 2013.
6. Fill up your fuel tank for the whole year with money leftover for an MOT and a few trips to the car wash.
Average household spend on petrol/diesel for personal transport in Scotland: £1123.20, average MOT costs: £29.65- £124.50.
Source: ONS - Table A35, December 2013 and GOV.UK, April 2014.
7. Watch Aberdeen play all season with two mates – with a few pies and Bovrils thrown in for good measure.
Average cost: £425 for one 2014/15 main stand season ticket.
Source: afc.co.uk, price correct on May 16, 2014.
8. Experience 636 joyful caffeine highs.
Average cost: £2.20 for a medium cappuccino.
Source: Daily Mail, September 2013.
9. Share a meal of fish and chips with your family every day for around 10 weeks, with a couple of portions of mushy peas thrown in.
Average cost of fish and chips in UK: £4.74 per portion, based on family of 4 sharing meal.
Source: BBC News, June 2012.
10. Go for one haircut a month for over 3 and half years…you can go for significantly more if you're a man!
Average spend for women per haircut: £29.99.
Source: Daily Mail, November 2013.
11. Pay off your energy bills in full over the year.
Average household cost in Scotland: £1211.60 per year.
Source: ONS - Table A35, December 2013.
12. And finally, you'll still have enough left over for endless hugs with everyone to celebrate being in a United Kingdom.
And if you're still in need of a reason to smile, go to Inverness – it's the second happiest place in the UK.

Source: Rightmove, May 2014.

Tell us what you would do with £1400 on Twitter using #UKDividend.
Photos above by Pascal, Bricknave, Lummmy, Matija Grguric, Dr. Mark Kubert, Song Zhen, Jinho Jung, Kristina Alexanderson, Paul Albertella, RobethK, Lollyman and Jose Betancur. All used under Creative Commons.
---
You're reading Leg Godt, the blog with the latest Lego news and the most awesome Lego models in the web. Follow us on Twitter or Facebook.