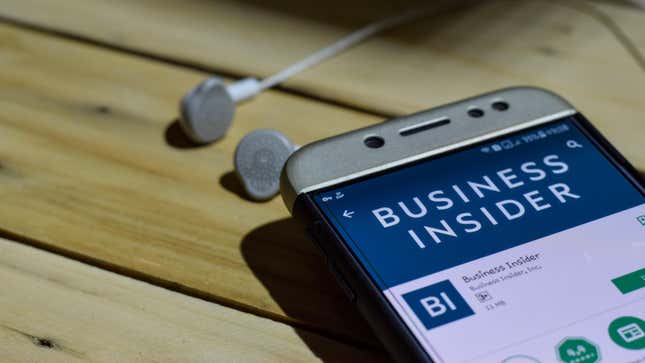 The news outlet Insider announced to staff via email Thursday morning that the company lay off 10% of its workforce, including staff writers.

Insider Editor-in-Chief Nicholas Carlson announced last week that the outlet's writers would be experimenting with ChatGPT. Asked if the layoffs were related to the nascent use of the AI chatbot, an Insider spokesperson said, "Of course not."
Insider Incorporated president Barbara Peng announced that layoffs in an email to staff this morning that was obtained by Gizmodo and first reported by The Daily Beast. Peng wrote that staff members affected by the layoffs would be receiving a notification 15 minutes after her email to the company was sent. Affected staff will receive 13 weeks of base pay with two additional weeks for each year they worked up to four years, medical coverage through August 2023, and career support services including resume reviews and one-one-ones with coaches.
"As you know, our industry has been under significant pressure for more than a year. The economic headwinds that have hurt many of our clients and partners are also affecting us," said Peng. "Unfortunately to keep our company healthy and competitive, we need to reduce the size of our team. We have tried hard to avoid taking this step, and we are sorry about the impact it will have on many of you."
Peng explained in her email that the layoffs would impact the unionized workforce at the outlet, meaning writers would be included in the cuts. Insider's presidet claimed in her email that management was unable to communicate the layoffs to the union, citing unspecified "union rules." An Insider employee in the union told Gizmodo that the union was not informed of the layoffs ahead of time and received no opportunity to bargain with management. The Insider Union did not immediately return Gizmodo's request for comment.
An Insider spokesperson told Gizmodo that the union was notified at the same time as staff, though he did not specify what rules Peng was referring to in her email. He said that the company was negotiating with the union on a final number of represented staff members that would be affected by the cuts.
Carlson said in a letter to staff, posted to Insider itself last week, that the outlet was looking to set up a working group of staff writers to test how to responsibly add artificial intelligence into the company's workflow with internal applications. He suggested using AI to develop outlines for stories, find typos to save editors time, create headlines that are optimized for search engines, and serve as an explainer of complex topics. He informed staff not to feed sensitive information concerning sources to ChatGPT and cautioned all of the outlet's writers not to include text generated by ChatGPT or any other AI chatbots verbatim in their articles.
Amongst a growing tidal wave of tech layoffs, staff cuts have likewise affected media in 2023. ABC News, NPR, Buzzfeed, and Vox Media are just some of the notable outlets along with Insider that have laid off staff members in recent months.