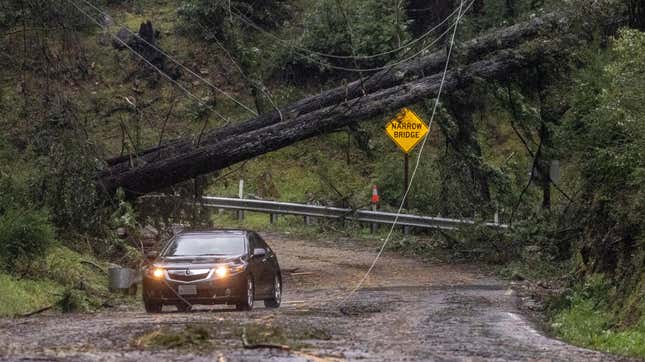 Communities across California are in the dark today and cleaning up debris after another atmospheric river hit the state, bringing strong winds and heavy rain.
Broken branches littered roads and power lines were damaged during a powerful storm on Tuesday. "Numerous reports of downed trees as winds gusted to over 60 mph in many areas!" the National Weather Service's Bay Area station tweeted today. More than 113,000 customers in California were without power as of Wednesday mid-day, according Poweroutage.us. Pacific Glass & Electric (PG&E), a California utility company, said in a statement that this week's storm exceeded the company's expectations. Some parts of the Bay Area experienced 80 mile-per-hour winds, which only worsened the outages, the statement explained. The widespread infrastructural damage could delay repairs, a PG&E spokesperson told CNN.
A video uploaded to Twitter shows how the strong winds broke a window in a San Francisco high-rise apartment, littering the street below with shards of glass.
Another video uploaded to Twitter shows cars navigating around fallen tree branches.
The damaging winds and heavy precipitation are supposed to subside today across central California, according to a National Weather Service alert. This recent storm system comes just a week after a storm-weary California was inundated by heavy rain and snowfall.
The disruptions across the Golden State have been extensive. A levee holding back the Pajaro River collapsed during a storm earlier this month, forcing thousands of people to evacuate, KQED reported. People in snow-smothered mountains were trapped in their homes, while others were stranded outside of their neighborhoods earlier this March.