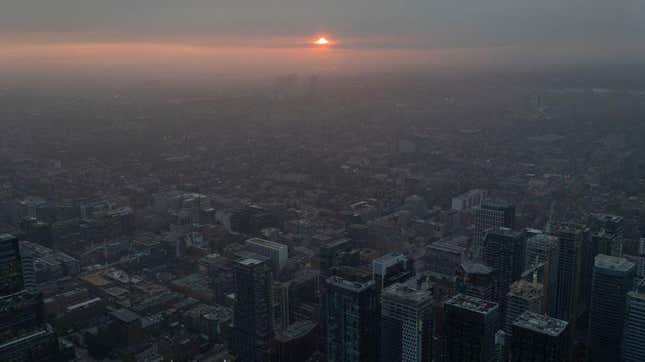 Widespread wildfires across Canada have broken a carbon pollution record this year, a European climate monitoring agency said this week.
Coastal Animals Are Thriving on Plastic Pollution Out in the Pacific Ocean | Extreme Earth
Data from the Copernicus Atmosphere Monitoring Service (CAMS) found that the total carbon emissions from this year's Canadian wildfires had soared to 290 megatons in only seven months. This is more than double the previous carbon emissions record for Canada in an entire year, the agency explained in its statement.
This year's wildfire season has broken other records too. In late June, the Canadian Interagency Forest Fire Centre announced that this year's wildfire season had seen the largest burned area in Canada's recorded history. "By the end of July, over 120,000 km2 had been burned; nearly twice as much as the previous record of 71,060 km2 burned during the entire of 1995," the CAMS statement explained.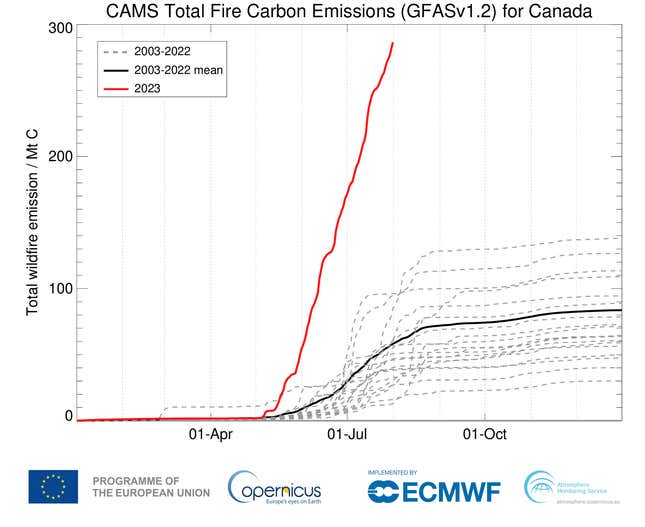 As of August 3, there were more than a thousand wildfires burning across all of Canada, according to data from the Canadian Interagency Forest Fire Centre. More than 660 of those fires are currently out of control. Last month, there were a little under 900 wildfires throughout the country. Government data shows that this year's wildfire season has burned an area of about 13 million hectares (32,123,700 acres).
The number of wildfires in Canada jumped earlier this summer after thunderstorms in British Columbia sparked more fires, Euronews reported. The unseasonably warm and dry conditions this year have made it even harder for firefighters to extinguish the flames.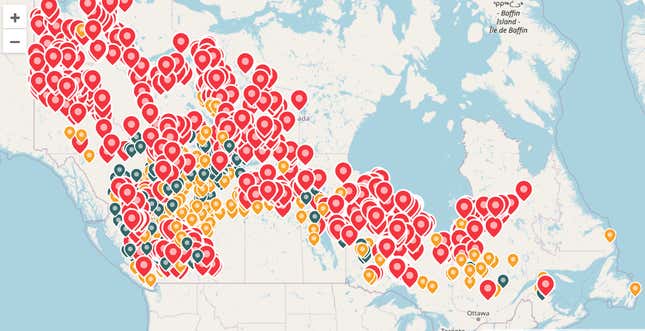 Plumes of smoke have traveled south many times, lowering air quality and visibility throughout multiple major U.S. cities this summer, including Chicago and New York City. The smoke even caused asthma-related emergency room visits to increase for several days this past June. Smoke has even traveled overseas this year and has been detected as far away as Norway this June, the Guardian reported.

Want more climate and environment stories? Check out Earther's guides to decarbonizing your home, divesting from fossil fuels, packing a disaster go bag, and overcoming climate dread. And don't miss our coverage of the latest IPCC climate report, the future of carbon dioxide removal, and the invasive bugs you should squash on sight.