Canon Japan today unveils the EOS Digital Rebel XS, a little brother to the critically praised Rebel XSi DSLR camera. This is good news for everyone but Nikon. When I reviewed the Canon XSi, the only thing that saddened me was its price tag, $200 more than the Nikon D60, but with enough performance to merit the step up. The XS can do almost everything the XSi can do, with a few trade-offs for what sounds like a $200 price drop. Update: DETAILED spec comparison chart below.
G/O Media may get a commission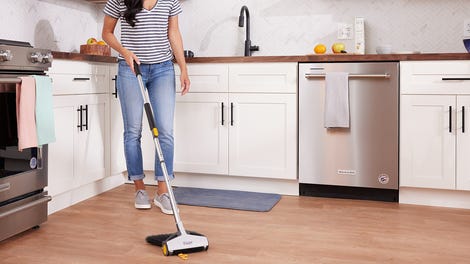 BOGO 50% Off
Flippr - BOGO 50% Off
Here's the tradeoff: The XS's sensor is 10.1 megapixel instead of the XSi's 12.2. The XS's LCD screen size is 2.5", versus the XSi's 3 incher. And the XS has a 7-point AF sensor rather than a 9 point. In other words, nothing that's going to keep an enthusiastic amateur photographer up at night.
Above, I said "what sounds like a $200 price drop" because Canon is acknowledging the XS but can't yet confirm the price. They do concede that it will be taking the place of the Rebel XTi, and by any valuation the XS is a far superior machine. It's got Canon's DigicIII processor for better images and faster speeds, rather than the XTi's DigicIII. More importantly, it has the Live View that I finally figured out, a useful tool on many occasions. It gets 50% more battery life, and weighs 2.5oz lighter than XTi. Not only that, but when you buy the body with kit lens, you get the nicer, image-stabilized 18-55mm lens that currently comes in the XSi's kit.
The funniest thing is, because of the lower megapixelage, the XS is the first of this series able to pull off unlimited consecutive large, fine JPEGs. The XSi can do 53 in a row, but this one can go until the SD card is chock full.
So bottom line, you get most of the XSi's performance enhancements, presumably priced in Canon's $600 (body only) and $700 (with kit lens) XTi slots. We should have official price and availability confirmation next month, but for now, look over the specs and start saving your beans. [Canon]