The Canon Powershot D10 will never, ever fit into a pocket unless you are MC Hammer, circa 1990. That's because it houses a telescoping lens in a bulging case, making it look like a sub. Still, shots are pretty.
Deadly Mississippi Tornado Kills More Than 2 Dozen | Extreme Earth
The Price: $329
The Waterproof-ness: Good down to 10 meters, making it suitable for light diving and heavy snorkel duty, as well as making it impervious to higher pressure of waves that may slap you and the camera around at lesser depths. The most waterproof camera without a housing, by far. And although they don't do a great job of advertising it, the camera is actually good to 14 degrees F and is shockproof to 1.22 meters, so its at least as rugged as the Pentax W80 I looked at last week.
The Images: DPreview unequivocally gives this camera their top ranks on image quality, without acknowledging the issues of bulge (later on that). We looked at it in a battle with the TS1 Lumix and John found the casing (or something) to affect color in low light shots, and the camera had problems autofocusing underwater comparatively. I only noticed that the Canon's shots were some of the best of the bunch, reaching for a touch more exposure than the others at appropriate times in its 12mp shots. The lens is a 35mm to 105mm equivalent, which is a solid range, but not the longest in the group by any means. Unlike periscoping lenses in cameras like the waterproof Lumix, Fuji and others, there's no lens distortion on the outside of the focal range. It has face detection and a mode that allows you to set the camera on a tripod and it will wait for you (an additional face) to enter the frame before shooting. There is also optical shake reduction.
G/O Media may get a commission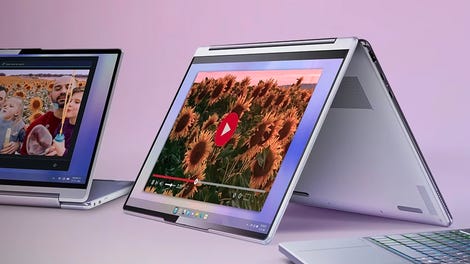 up to 70% off
Lenovo Spring Clearance
The Chassis: The case design here is bulbous, and crazy and yet so appropriate under the sea (even if obscene outside of the water). That is what affords it a sort of no nonsense dive reach of 10 meters without the use of an external housing, as well as these four cornered locking joints that are mounting points for the accessory kit: essentially a bunch of tentacles and loops so you don't lose it. It's crazy, and yet, totally appropriate for mounting the camera to dive belts or around your wetsuit when in a kayak. Check it out. As you can see, those straps make it much more accessible than a camera stowed inside a jacket on a ski trip or in a bag on a canoe. But note that there's no accessory for flotation in this expensive $130 kit, as Olympus and Pentax offer as $10 accessories. No matter, you can easily fit those, or a keyring floatie from West Marine to make the most ocean friendly point and shoot even more appropriate for life at sea.
The Interface: It's neat that the buttons are all so well laid out and you can easily hit all the major controls while wearing dive gloves. Confession: The automatic scene detection knows when you're shooting people or underwater, but I never discovered how to switch it to manual.
The Video: At best, it shoots 640 by 480. And everything I shot had a nasty blue tint to it.
Verdict: Good if you're a inshore merman or mermaid, or other creature that spends the majority of its life out at shallow sea, but totally inappropriate for anything not considered an extreme or quasi extreme sport where bulge is an excusable thing when you're trying to take the sharpest shots possible of your wet exploits.
Big, simple buttons and LCD icons. Goes to 10 meters deep. Cool accessory straps available for extra cost.




Only shoots video at 640x480. Expensive. Bulges so much it won't fit into pockets. Awkward looking out of the water.
Summermodo is a chance for Giz to get outside and test our gear where it belongs.