The Pentax W80 is their latest in a long line of waterproof cams that take decent shots, but have always been my favorite because of their compact size. This one is a bit bigger, but gains ruggedization and depth.
The Price: $300
The Photos and Video: In sample shots on our kiteboarding trip and at the local beach, the W80 was not the best but sill surprisingly good. Compared to periscoped lens setups, the traditional internal 5x zoom lens made the 12mp shots look sharper than most other waterproof cameras. The 28mm-140mm equivalent lens was sharp edge to edge with a touch more zoom than others in the roundup. Color was good, too.
G/O Media may get a commission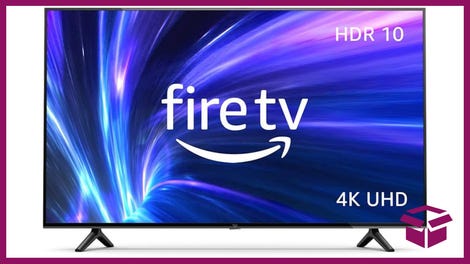 42% Off
Amazon Fire TV 50" 4K Smart TV
But I noticed the lens was a little too slow to capture sharp motion underwater where light is rarer than on the surface. (The first sample shot I took in dim light triggered the flash where other models didn't need one.) Colors and exposure was fine, but the grunge resisting lens and lcd were only marginally helpful in combating substances like suntan lotion, grime and surfboard wax. Video is captured at up to 720p, but it didn't look so great. Face detection locked on pretty quickly, and there are several shake reduction capabilities, including digital and movie modes.
The Design: The casing is still one of the smallest and is by far the most pocketable ruggedized model around, but its only good for drops up to 3.3 feet. Models by Lumix and Olympus are far more rugged, although more Hummer-esque, too. Pentax's various scene modes are amongst the most useful around, and there's an simple button to switch between them, but that button and menu is also the only way to easily switch between video and still mode. Quite a chore.
The camera could use a design refresh, in all honesty, and more metal. But it's also good for winter sports, rated to function down to 14 degrees. I liked Pentax's optional floating wrist strap, too.
The Waterproofness: Good down to 16 feet, up from 13 feet in the last generation. Good enough for light to medium beach duty.
The Recommendation: My favorite rugged-ish waterproof camera when size is a consideration.
Compact considering its quasi-rugged chassis.
Decent shot quality.
There are tougher cams out there that take better photos, but only slightly so in all regards.
Could use a redesign, since the W60, W40 and W20 had similar cases.
Summermodo is a chance for Giz to get outside and test our gear where it belongs.