A hundred years before King Joffrey ruled with distinction, a very different boy learned how to be a King. Fans of George R.R. Martin have long admired his "Dunk and Egg" stories, and now there's a new graphic novel adaptation showing the history of Westeros. We've got some brand new exclusive images.
The graphic novel of George R.R. Martin's The Hedge Knight, adapted by writer Ben Avery, and artists Mike S. Miller (penciller) and Mike Crowell (inker), is out now. This new edition features 15 pages of exclusive material, including sketches, character designs, original art pages, and variant covers.
Here's the synopsis:
The Hedge Knight is the first "Dunk and Egg" comic, chronicling the story of Ser Duncan the Tall ("Dunk") and his young squire "Egg" – the secretly Aegon Targaryen, who would grow up to ascend the throne of Westeros as Aegan V. In their gripping first adventure, Dunk and Egg seek glory in a world both familiar and new toGame of Thrones fans. What the two fortune seekers encounter, however, is a world of distrust and political machinations. Chivalry is not lost while Dunk holds fast to his dreams of honor. But such outdated virtues make him a target—and they may even lead to his ruin. This vivid and elaborately wrought tale brings new dimension to George R. R. Martin's beloved world.
G/O Media may get a commission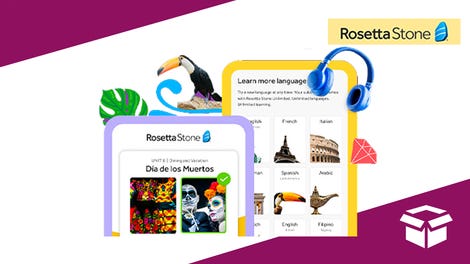 Extra 20% off
Rosetta Stone Lifetime Subscription - All Languages
Even if you've read a previous release of The Hedge Knight, you've never seen this art before. Check out some images, a few of which are exclusive to io9:
Mike S. Miller original sketch of Prince Aerion Targaryen ("Brightflame"), exiled after losing the Trial of Seven to Ser Duncan the Tall — exclusive to io9!
An early page (16) of when Egg (Aegon Targaryen) rides on Dunk's War Horse Chestnut.
Aerion Targaryen, drawn by Mike S. Miller
An exclusive first image from The Sworn Sword (the sequel to The Hedge Knight) coming out next Spring, of the Battle of Redgrass Field during the Blackfyre Rebellion (GoT fans will recognize the Corbray Valyrian Sword "Lady Forlorn")
Cover B – Dunk intervenes With Egg watching, drawn by Tom Yeates - exclusive to io9!
Mike S. Miller original sketch of Dunk fighting Aerion in the Trial of Seven — exclusive to io9!