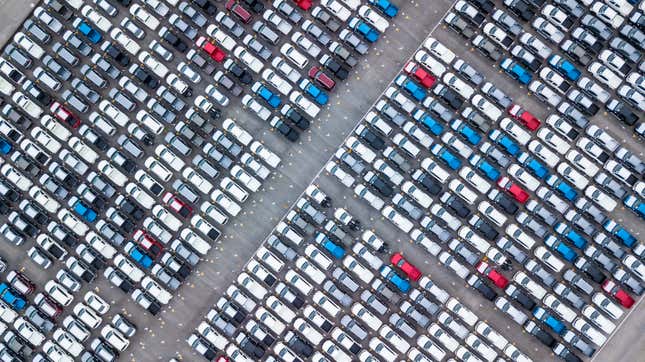 Inflation is touching all of our daily lives in different ways—just ask anyone who has tried to buy eggs this year. New research published by the Bureau of Labor Statistics has found that markups at car dealerships have been a driver of that inflation.

The Boogeyman's Sophie Thatcher Reveals What Draws Her to Dark Characters | io9 Interview
The Bureau of Labor Statistics says in the research, which was published in the agency's Monthly Labor Review journal this month, that car dealerships were well-positioned to markup vehicles given their place as a thoroughfare of the country's vehicle supply between manufacturers and consumers. The covid-19 pandemic led to car manufacturers facing supply shortages while economic stimulus checks led to many American consumers with a bit of extra cash to spend. The middlemen—the dealerships—saw an opportunity and were able to markup their prices to a peak of 144.7% between December 2019 and December 2022 according to the research.
"What we saw with the supply-chain crisis is that dealerships were able to reassert their position as an inventory management system," Michael Havlin, an economist at the U.S. Federal Maritime Commission and the author of the research, said to the Wall Street Journal. "And dealers are the ones with inventory."
As detailed in the manuscript, in the era following the 2008 economic downturn, dealerships faced price hikes from manufacturers and did not push those costs onto consumers, who were wary of high prices following the recession. The onset of the covid-19 pandemic was enough to flip that dynamic, giving dealerships leverage over consumers. While pandemic shutdowns saw manufacturers outputting less cars, dealerships had enough extra inventory to weather that slowdown. Likewise, the extra money consumers received from stimulus checks encouraged them to purchase physical goods, like cars, leading to increased consumption.
The research states that dealerships contributed to the overall inflation we've been experiencing for the past few months, albeit "modestly." Car dealerships are not alone though, as egg prices have been another symbol of insurmountable inflation. In December 2022, egg prices soared 60% year-over-year, while food inflation overall saw a 10.4% increase year-over-year.