Winter was setting in and some of Chelsea Manning's most devoted followers began showing all the signs of doubt. Days before the 2016 election, the 28-year-old had tried for a second time in only a few months to end her own life.

Manning's supporters openly wondered whether she would survive the remainder of her sentence if Obama didn't commute it prior to leaving office.
But he did and the heartbreak abated and was replaced by a euphoric sense of relief. After receiving the harshest sentence of any American who's ever leaked classified information, Manning strolled out of the Kentucky military prison, slid on a fresh pair of black low-top Converse sneakers, and made a beeline for a fresh slice of pepperoni pizza.
In an upcoming interview on ABC's Nightline next week, Manning says she's taken responsibility for her actions. More than two years ago, she told an Army judge: "I'm sorry that my actions hurt people. I'm sorry that they hurt the United States." Audio of her apology was aired on television by NBC News for the first time in January. It likely weighed heavily in Obama's decision to reduce her sentence by more than 27 years.
"Anything I've done, it's me," Manning tells ABC. "There's no one else. No one told me to do this. Nobody directed me to do this. This is me. It's on me."
G/O Media may get a commission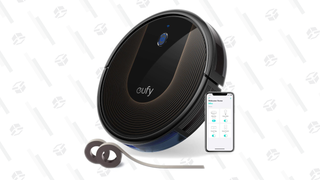 48% Off
Eufy BoostIQ RoboVac
Assigned to an intelligence shop at a forward operating base near Baghdad during the 2010 US drawdown, it was Manning's job to shift through raw intelligence that detailed incidents of war rarely conveyed to the American public. "We were getting all this information from all these different sources," she now says, "and it's just death, destruction, mayhem."
"We're filtering it all through facts, statistics, reports, dates, times, locations, and eventually, you just stop," she told ABC. "I stopped seeing just statistics and information, and I started seeing people."
Manning was disturbed by much of the intel that crossed her desk: significant activity reports detailing mass civilian casualties, the use of kill lists, the "seemingly delightful bloodlust" of Apache helicopter pilots who'd gunned down journalists and shot children. "We're the most familiar with it," she says of the battlefield analysts. "It's not, you know, it's not a general who writes this stuff."
Manning, who was eventually charged with leaking only portions of 227 documents (out of the more than 725,000 she sent to WikiLeaks), tells ABC that she didn't raise her concerns through the chain of command because, while "the channels are there... they don't work."
Manning says that despite all of it, she has nothing but the utmost respect for the military. "The military is diverse and large, and it's public, it serves a public function, it serves a public duty," she says. "And the people who are in the military work very hard, often for not much money, to make their country better and to protect their country. I have nothing but respect for that. And that's why I signed up."
Asked what she'd say to President Obama if she had the opportunity, Manning fought back tears. "Thank you. I was given a chance. That's all I wanted," she said.
[ABC News]