Our readers are pretty spectacular. And on days like today, a couple were particularly on fire, with a few awesome jokes.
Here's a clever response to the guy behind the Apple Maps debacle getting canned:
Don't let the door hit you on the way out. Richard! That's not the door! Rich... Richard! For the love of God that's a supply closet! Turn! Turn right! Too far, you idiot! Left a little... now two steps forward... NO! Forward! Never mind, dammit, I'll call for an intern to walk you out. Just stand there. Don't try to move on your own.
That little jab would've won, were it not for this stellar quip about that bogus Facebook copyright notice, as explained by College Humor:
In response to the new Kinja Commenting System I hereby declare that my copyright is attached to all of my personal details, illustrations, graphics, comics, paintings, photos and videos, etc. (as a result of the Berner Convention). For commercial use of the above my written consent is needed at all times.
(Anyone reading this can copy this text and paste it on their Kinja Accounts. This will place them under protection of copyright laws. By the present communiqué, I notify Gawker Media that it is strictly forbidden to disclose, copy, distribute, disseminate, or take any other action against me on the basis of this profile and/or its contents. The aforementioned prohibited actions also apply to employees, students, agents and/or any staff under Facebook's direction or control. The content of this profile is private and confidential information. The violation of my privacy is punished by law (UCC 1 1-308-308 1-103 and the Rome Statute).

Gawker Media is now an open capital entity. All members are recommended to publish a notice like this, or if you prefer, you may copy and paste this version. If you do not publish a statement at least once, you will be tacitly allowing the use of elements such as your photos as well as the information contained in your profile status updates.

*Note: I actually like Kinja (I don't really understand why everyone hates it; just imagine, they could have used Disqus), and just posted this for shits and giggles.
G/O Media may get a commission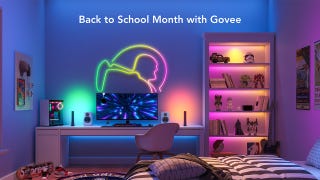 Back to School
Back to School Month with Govee Sale
Keep it up you guys.
Image credit: Shutterstock/YanLev