This is the time of the year when senior high school students are furiously applying for college — a process that will decide where they will spend the next several years of their life, and shape their futures. And a lot of them will face a common problem: They have the grades to get into a particular school, but they can't even afford to apply.
Why are college application fees so high? And how much money do colleges make from charging such insane fees just to be considered?
Stanford University charges $90 per undergraduate application. The school receives over 34,000 applications a year, adding up to $3 million in revenue for the school. That's not the highest application fee in North America, however — that honor goes to Virginia-based public university George Mason.
George Mason is home to 20,000 undergraduate students a year, with an additional 12,500 graduate students enrolled. The publicly funded university's in-state tuition is quite reasonable — less than $7,000 per year. But meanwhile, George Mason takes in a little more than 17,500 applications from freshmen and transfer students a year at $100 a pop, resulting in $1.75 million in revenue. This number is artificially inflated, however, because George Mason uses this high paper application fee to steer possible students to an online application which costs $40 less and eases the paperwork burden.
These application fees certainly pile up, especially for hopefuls applying to multiple schools. Most universities charge in the $50 to $75 range for a freshman application — the NYU system charges $70, UCLA charges $70 per application, while the University of Texas charges $75.
G/O Media may get a commission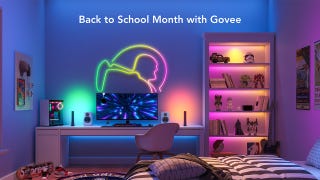 Back to School
Back to School Month with Govee Sale
Prices for private schools vary dramatically, with Emory and Vanderbilt charging a mere $50. A number of private colleges, including Baylor, Drexel, and Sewanee currently waive their undergraduate applications fee for students applying online.
The individual cost may not be a big problem — but the cost can add up pretty quickly, given that students likely apply to multiple colleges. There are programs to help with application fees, but you need to be within a family with an income within approximately $15,000 of the U.S. poverty line to be eligible. For those in the middle class, applying to multiple universities can create a substantial financial burden.
And once you're accepted, universities charge an admission fee to hold the student's spot for the coming year — a second fee that can range from $100 to $250.
But these application and admission fees pale when compared to the fees charged by elite schools outside of North America.
Oxford University asks for $120 at the time of application, Uppsala University in Sweden requires for $135 from those outside of Sweden and the EU, while applying to La Sorbonne can cost upwards of $500 for those applying internationally.
Applying for Medical and Pharmacy School
So if undergraduate application fees are expensive, what does it cost to apply to graduate school?
Many graduate programs that are stipend dependent — particularly those in the physical sciences — waive the application fee in hopes of attracting more applicants. These applicants often teach a litany of undergraduate laboratories once accepted, providing a low-cost source of revenue for the departments.
But applying to professional schools, particular medical or pharmacy school, is quite expensive. Both venues work off of a consolidated application system — the American Medical College Application Service (AMCAS) and PharCAS.
The initial application to one medical school via the online AMCAS system bears a cost of $160, with $33 added for each additional school. Pharmacy school applications are even more expensive, with PharmCAS charging $150 for the first and $50 for each additional.
One of the hidden sets of fees that come along with professional schools are "supplementary" applications; applications sent by each school individually after successful screening of consolidated applications. These applications add substantial additional fees, with Harvard charging $100 while UCLA charged $80 for each of the nearly 3,000 secondary applications the school requested in 2011. These applications are typically necessary to garner an interview and acceptance into the school, with the interview itself posing additional travel expenses.
The move to online applications at the undergraduate level is certainly driving costs down — but it hasn't yet trickled down to professional schools.
Top image via Patricia Drury/Flickr.