LEGO Batman's Twitter recently shared a short clip where Batman teases the end of his retelling of The Night Before Christmas, and now I've got to hear the rest. For crying out loud, Batman, Marvel gave us 10 hours of superhero fireplaces. Step up your game!

The video's less than 20 seconds, but it hints at an epic Batman-esque version of the holiday classic. "Happy Holidays to all, and to all a dark knight." Does this mean Batman helps Santa save Christmas? Does he stalk in the night creepily bringing toys to all the little girls and boys of the world? Or is it a reimagining of Batman: The Animated Series' iconic holiday episode "Christmas with the Joker"—which includes, among many things, Mark Hamill himself singing "Jingle Bells, Batman Smells"? The possibilities are endless!
There isn't a piece of promotion from the upcoming LEGO Batman movie that I haven't loved to death. I don't care if it's just sharing a stupid Robin GIF for National Sweater Day, everything they're putting out is making me so pumped for the movie. And I'd love nothing more this holiday season than to hear Will Arnett read us the entire Batman version of A Visit from St. Nicholas. Ideally in 10-hour fireplace form. Consider this my official request. Batman reads io9, right?
G/O Media may get a commission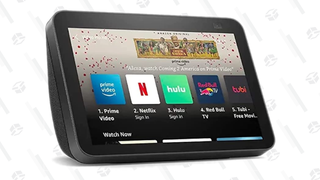 [Twitter]